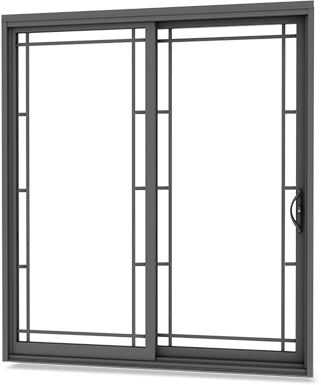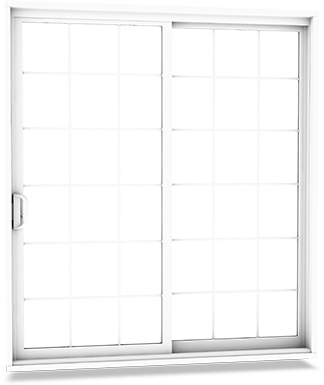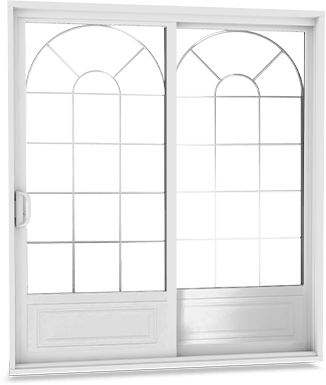 The PVC patio doors installed by Northern Comfort are elegant, heavy-duty, high-performance sliding glass doors. They exceed all applicable norms, with the highest-rated resistance to forced entry in North America, as well as top-rated performance levels in every other sliding patio door category. These quality doorwalls are built to perform in extreme coastal and lakefront exposures. If you are looking for energy efficiency, comfort, plenty of natural light, and durability — look no further. Our patio doors can be built in your very own size, confirguration, and style, and we will install and guarantee them to last.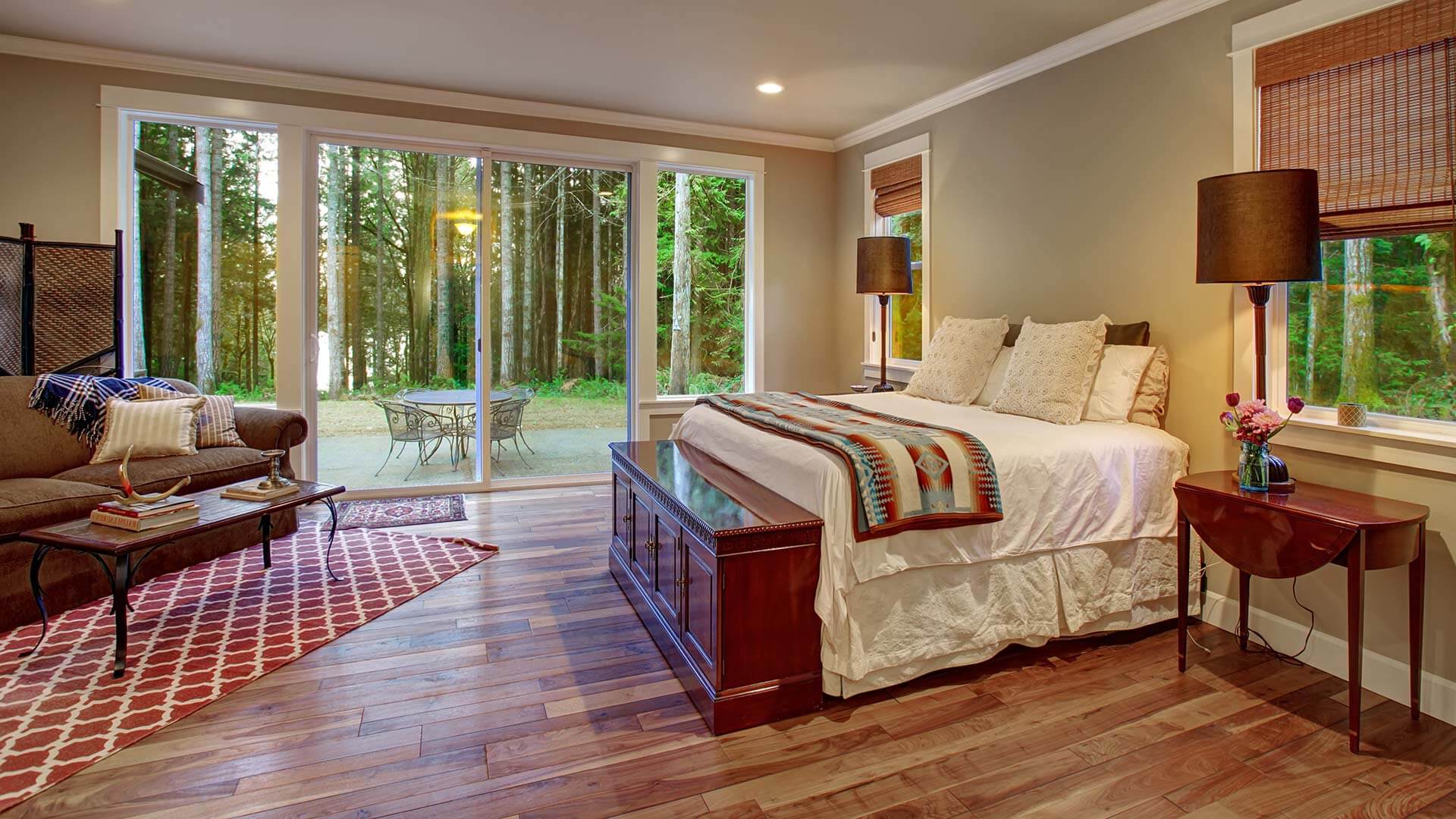 When to Choose Patio Doors.
Since glass patio doors are essentially oversized sliding windows, designed and reinforced for through traffic, they bring the same benefits. Sliding glass doors take no interior or exterior space, posing no limitations to – and allowing for greater flexibility in – furnishing you room or the deck. With their slim frames and top-to-bottom glazing, you can fill the room with natural light and let you enjoy exterior views in year-round comfort. Then, there is the ease of operation, with quick and effortless opening and closing.
Sliding glass doors are a favourite for access to backyards and decks from the lower levels. However, more and more homes take these doors higher, enlarging window openings on top floors and installing the larger patio doors in place. Whether building a balcony or just adding a handrail or cross bar for safety and norm compliance, the benefits of more natural light and ventilation, as well as the extra visual space added to the interior, could very well be worth the makeover. No wonder patio doors are so prevalent on newer homes.
With their unobtrusive and neutral appearance, a patio door can fit seamlessly into the design of any house. Our glass doors have extensive customization options, allowing you to take your design to the next level, or adapt a patio door to match your home's specific architectural style — with custom colours and finishes on the frame, tinted glass, V-groove beveled glass designs, internal grilles, simulated divided lites, garden door panels, a range of hardware options, and more. From standard two-panel configurations, to triple- and quadruple-panels, you can fill openings up to 12 feet wide and 8 feet high, and even more with sidelites and transoms. You can also opt for the extra safety of locking mortise handles, tempered glass, foot locks, safety bars, the lower noise levels of laminated glass, or max out the insulation with triple glazing.
Patio Door Features
Here are some of the features that make our PVC sliding patio doors strong, energy efficient, durable, and virtually zero-maintenance.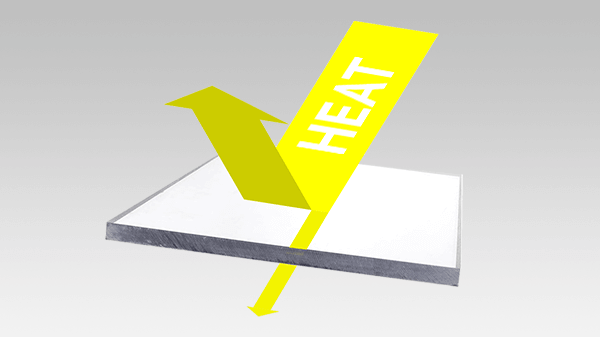 Low-emissivity glazing
An invisibly thin metallic coating is baked onto one or more of the glass pane surfaces, reflecting most of the heat in the form of infrared radiation back inside the home during winter and outside during summer, while letting most visible light pass through.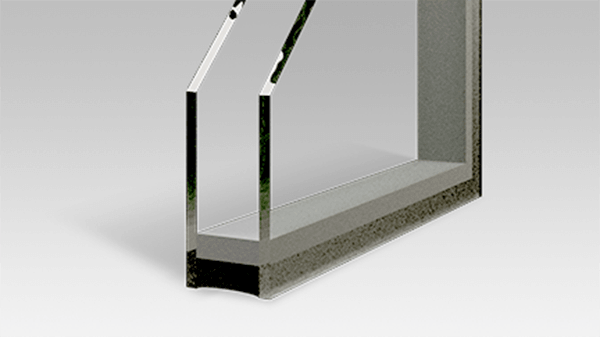 Insulated Glass Unit
Two layers of glass are joined to create a sealed hollow chamber that acts as a thermal buffer between the inner and outer glass panes. This minimizes direct heat transfer through the glazing, and helps prevent condensation and ice build-up. Triple-pane glazing also available on select models.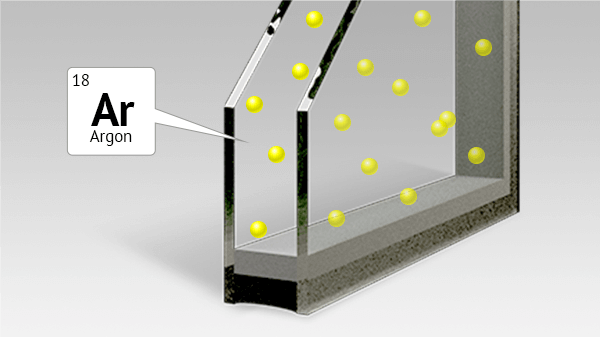 Argon gas filling
The air between the glass panes inside a thermal glass unit is replaced with argon. This inert, odourless gas is heavier than air, reducing convection between the panes and the associated heat loss through the insulated thermal glass unit. It also offsets water vapour to prevent condensation between the panes.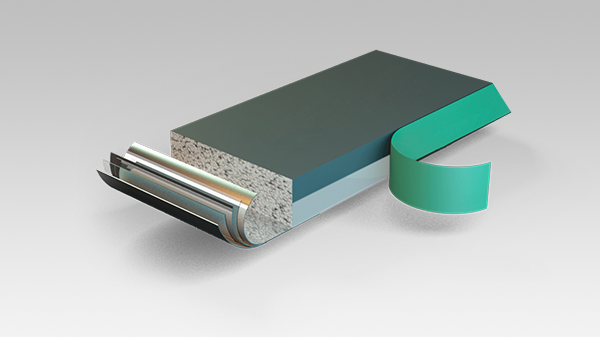 Ener-Edge® warm-edge spacer
Our thermal glass units use a cellular silicone warm-edge spacer that possesses low thermal conductivity, minimizing heat transfer between the interior and the exterior of the thermal glass unit. It also allows for the natural expansion and compression of the unit due to temperature changes without failing the seal between them.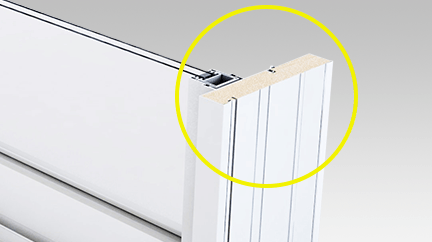 PVC-clad 1-1/4" solid wood frame
Our patio doors feature a thick and solid solid wood frame, for increased structural strength and a better seal, and to facilitate a quick, easy, and precise installation. The primer protects the frame against mold and rot. Finger joints greatly reduce warping and twisting, and the one-piece exterior and interior PVC cladding is maintenance-free.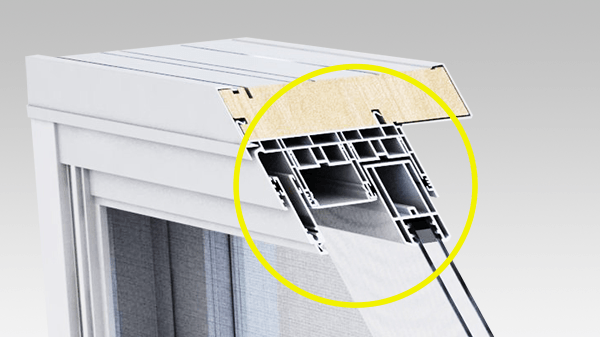 Insulated PVC construction
Our PVC sliding glass doors are insulated with multiple air chambers on the sashes, head and top track, and brickmoulds. The components are precision corner jointed and sealed to prevent drafts and heat loss throught the door, and to increase indoor comfort levels.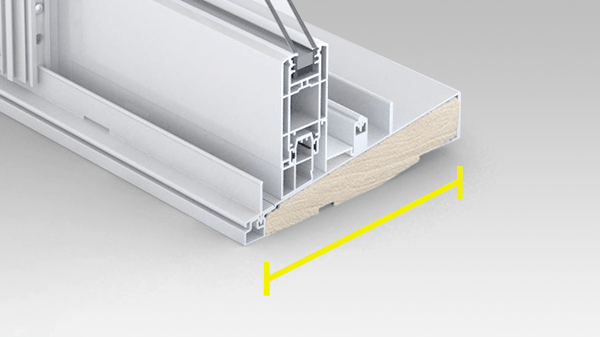 Frame dimensions
Our patio doors are available in a variety of standard jamb depths, for an exact fit with your wall construction: 5-1/2", 6-9/16", and 7 1/4". The depth can be further customized with interior frame extensions.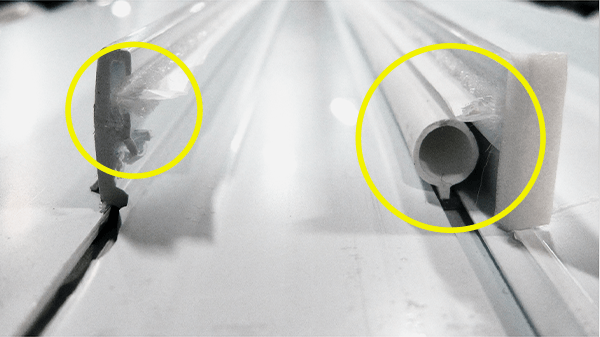 Multiple Weatherstripping
Each moving glass panel uses multiple weatherstripping seals at the interface with the stationary frame. This reduces drafts and the associated heat leaks through the patio doo. Also, the thermal glass unit itself is compressions sealed to the sash from both the inside and the outside.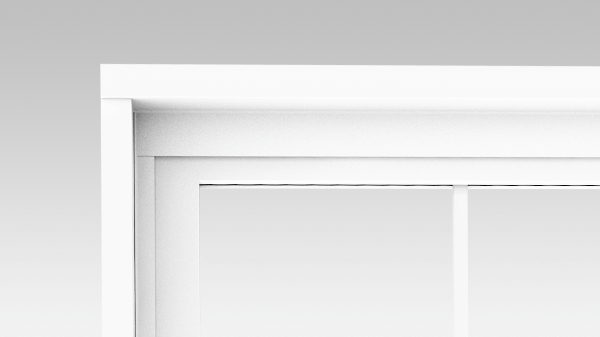 Low-maintenance, high-gloss finish
Highest grade PVC powder and fabrication techniques result in a high gloss PVC finish, for a patio door that is easier to clean, more durable, and won't fade or yellow over time.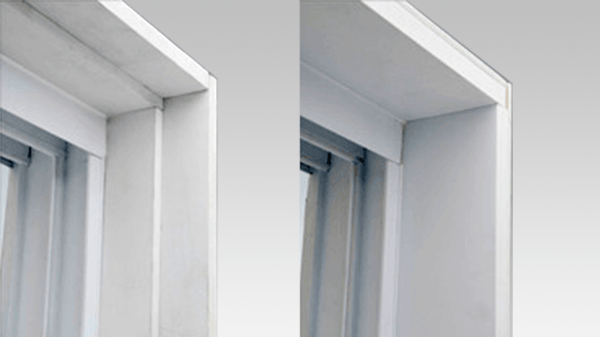 Interior frame extension
3-side or 4-side interior frame extensions allow adapting to any wal construction and depth. It can be supplied in primed wood for painting to match the interior, or clad in PVC for a final and maintenance-free finish that won't fade, crack, or peel.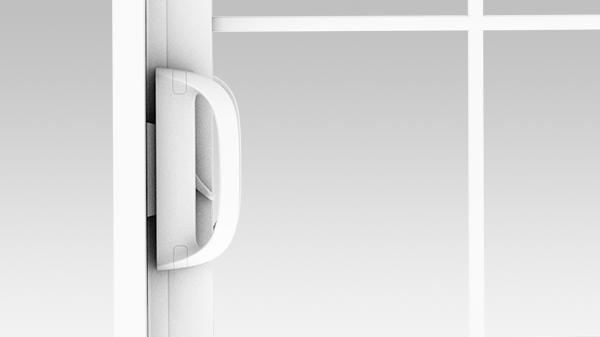 Exclusive Level 40 lock
Our superior lock with exterior "D" handle is included with every door and offers the highest-rated resistance to forced entry in North America. The handle design is ergonomic and aesthetic, corrosion-free, without paint peeling or tarnishing. The exterior "D" handle makes operation easy.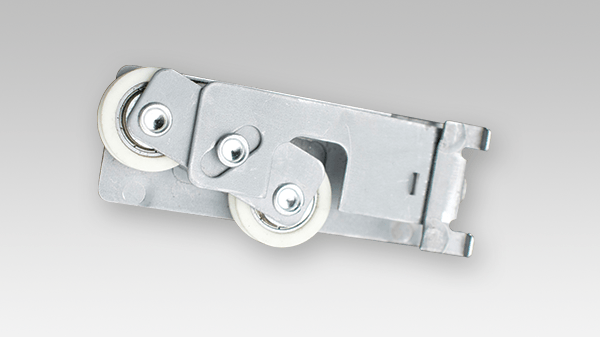 Durable and quiet tandem rollers
Enjoy smooth, easy, and whisper-quiet operation of your sliding patio door window with our durable tandem roller assemblies. These self-lubricating, non-corrosive rollers offer long life and eliminate blackened tracks, without wear.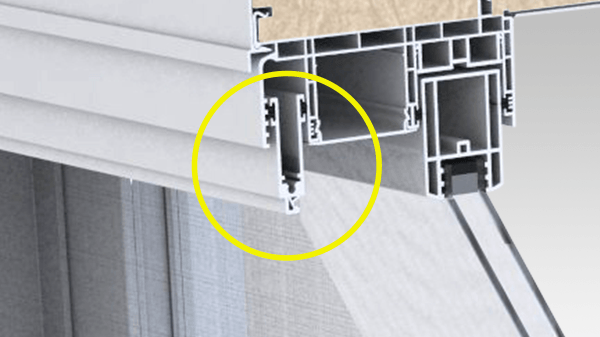 Heavy-duty locking screen
Enjoy a smooth gliding screen that won't skip or jump off the track. The strong axtruded and powder coated aluminium assembly keeps the fiberglass screen tight. The fly-sweeps and weatherstripping work in tandem to keep the bugs out. The hardware allows for an easy operation from the outside and the inside. The screen can be easily removed for winter storage.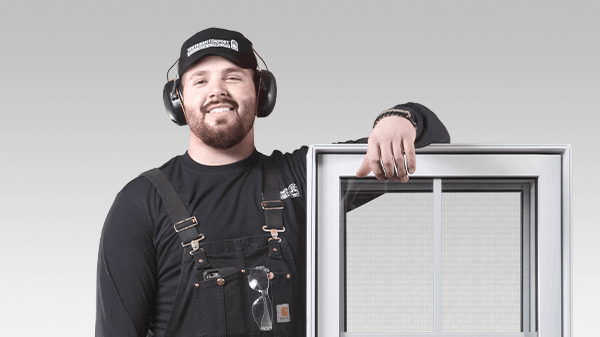 Professional Installation
Only a professional installation allows a door or window to perform as it was designed. Factory-trained, certified profesional installers will fit and fine-tune your doors for smooth operation for many years to come, while making sure that your home is sealed against wind, water infiltration, pests and intruders.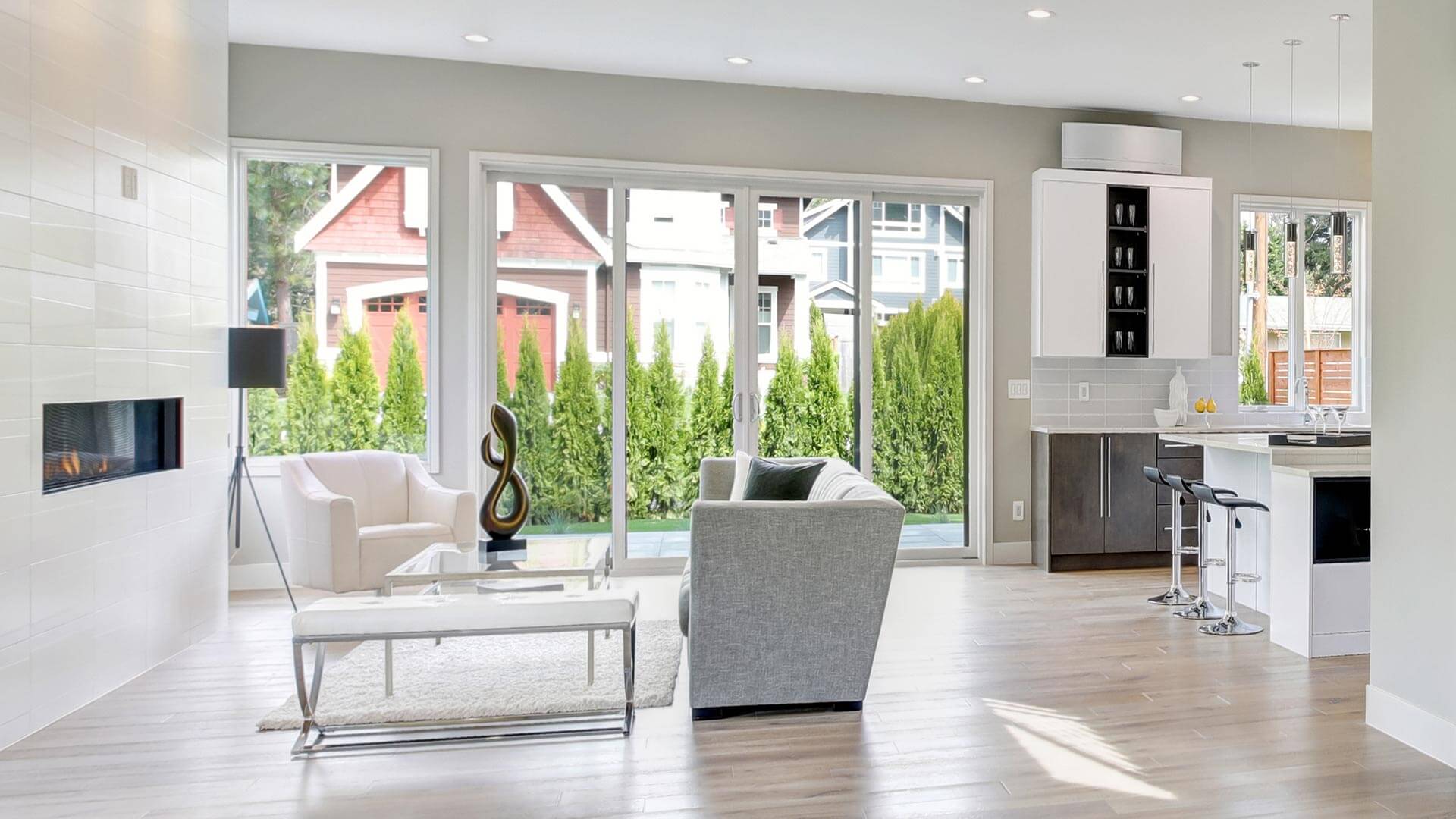 Patio Door Configurations
Our sliding glass doors are manufactured in a variety of configurations and sizes, to offer the exact fit, layout, and functionality you need. Whether you need a standard patio door in 2 panels, or a wider 3- or 4-panel construction, we can accomodate any size and opening requirements. Fixed sidelites and rectangular or shaped transoms above, can make your patio door even more impressive. Here are some of the many possible configurations:

2-panel
patio door

2-panel with
arched transom

3-panel with
one side panel
opening

3-panel with
both side panels
opening

3-panel with
centre panel
opening

3-panel
with sidelites
and transom

4-panel
patio door
Energy-Efficient Patio Doors
The manufacturing process of all Energy Star® certified sliding patio doors sold by Northern Comfort Windows and Doors are audited by an independent accredited certification body and approved by Natural Resources Canada. Our windows and doors carry the Energy Star® label showing the specific climate zone for they are rated for.

Patio Door Replacement Made Simple.
We'll help you choose the the best windows for your home, and offer you the best price. Contact us today for a free in-home consultation and quote. No pressure, no obligation.
Your information is secure and we will not spam you.