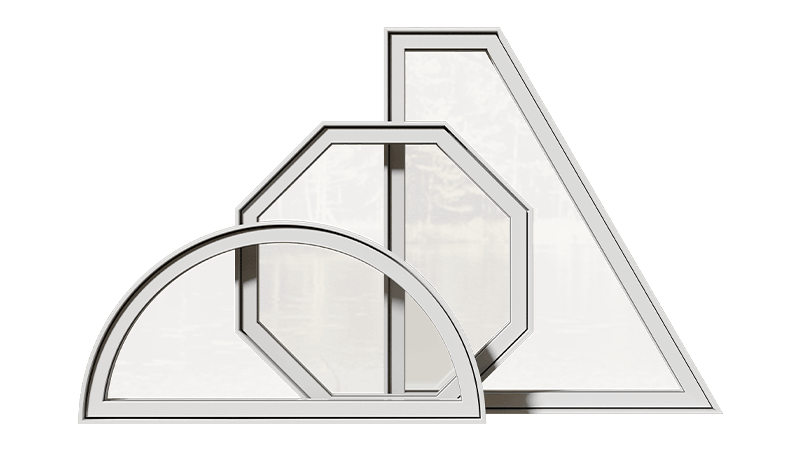 Fixed windows, also known as architectural and picture windows, are simply windows that do not open. They serve to bring natural light indoors in places where ventilation is not required. Most often, these windows have no moving sashes, so the window frame itself holds the glass. The resulting profile is lower and uses no operator hardware, allowing for an easier manufacturing of windows in curved shapes. Wherever a coordinated sightline with adjacent operable windows is desired, a moving sash can be permanently secured to the window frame; this window type is referred to as a fixed casement, or as a high-profile fixed window. We manufacture and install either type of fixed windows, in virtually any shape imaginable — circles, arches, eyebrows, polygons, you name it — for top energy efficiency and durability.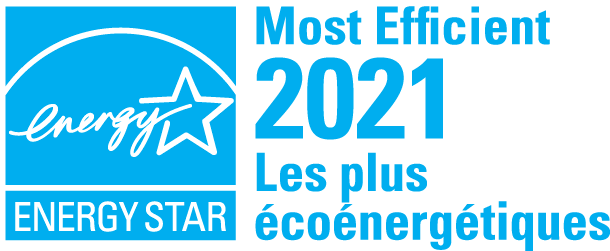 What are Fixed and Shaped Windows and When to Choose Them
A window with no moving, or operable, sashes is called a fixed window. Since it serves only to bring in sunlight and provide views of the exterior, it is also called a picture window. Windows with no moving parts are inherently stronger and transfer loads better, hence the alternate term 'architectural window'. Finally, any shape other than rectangular gives it the name 'shaped' window.
Fixed windows were the first true window types around, when a translucent material such as animal skin, paper, stone, and later glass, were used to close an opening in the wall while letting light in. Over the course of history, various shapes of windows became distinctive features of architectural styles: circles and arches of the Romanesque, broken arches of the Gothic, ovals and eyebrows of the Baroque — down to the intricately organic shapes of Art Nouveau or Deco.
The fact that there is no operator hardware allows for larger windows, since the operator limits the lite size to a maximum load it can support safely. It also makes fixed windows cheaper, allowing to glaze large surfaces economically. Therefore, the first rule is to choose fixed windows to fill large surfaces, as well as in any hard-to-reach areas. To allow for efficient airflow and ventilation, you only need operable windows where you can reach them, opposite to each other, or to other openings such as doors and passageways.
Fixed windows can be used alone or as part of a multi-lite window, as transoms above doors, or sidelites beside them. They can fill a sunroom wall, become a round porthole, take an octagonal shape on a Cape-Cod-style gable, or fill the latter to the roof in triangular or trapezoid shapes. The functional and decorative uses of fixed and shaped windows are virtually endless.
With no moving sash, there are no drafts and no seal failures, so fixed windows are the most energy efficient. Our low-profile fixed windows have a top ER rating, and our high-profile fixed RevoCell® windows are Energy Star Most Efficient too. Choose a Northern Comfort architectural or shaped window, for maximum durability and a better performance, professionally installed and guaranteed for 20 years!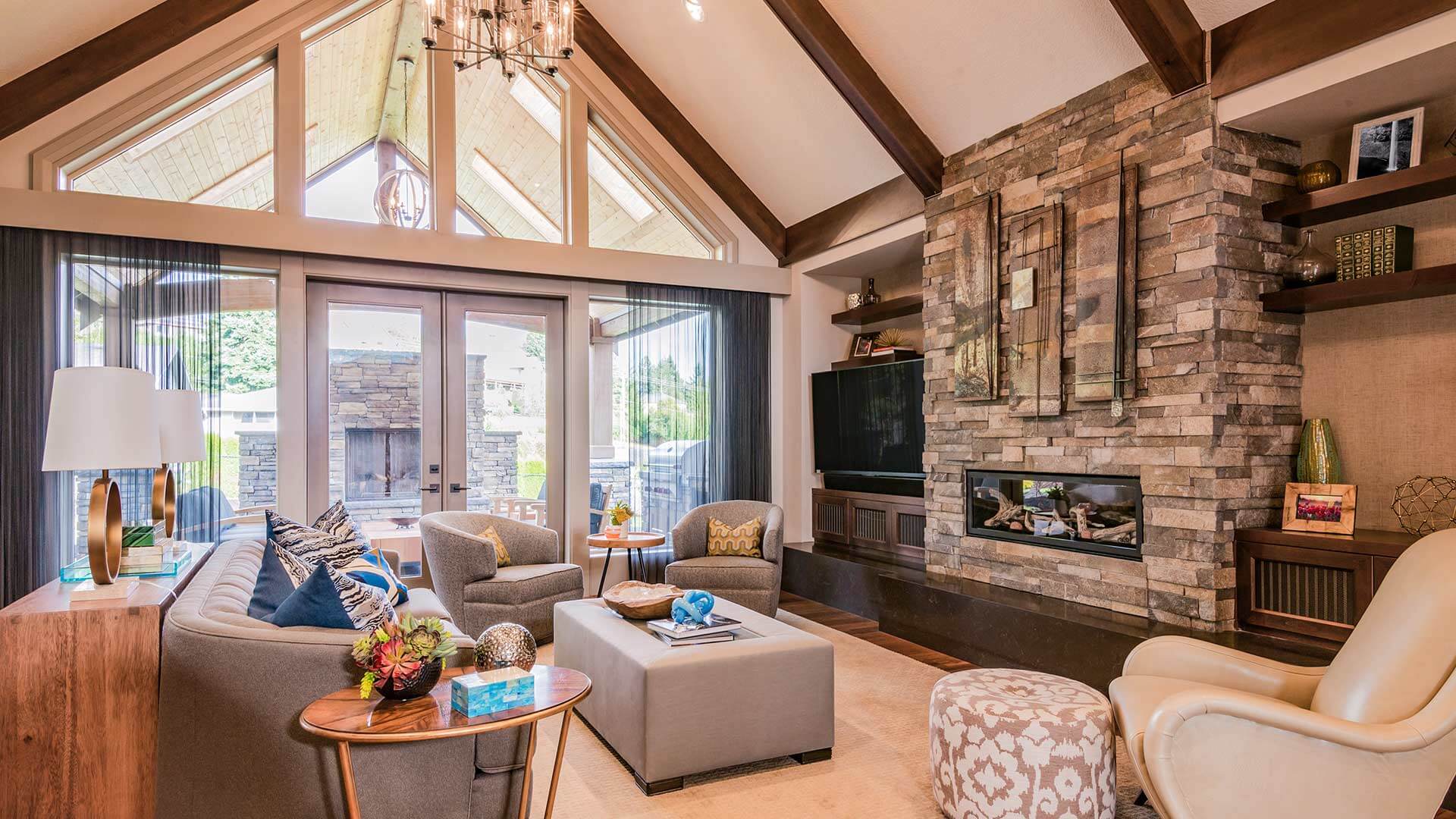 Fixed Window Profiles
Our fixed and most shaped windows are built in three distinct profiles. Our knowledgeable consultants will recommend the best choice for your project during your free in-home consultation.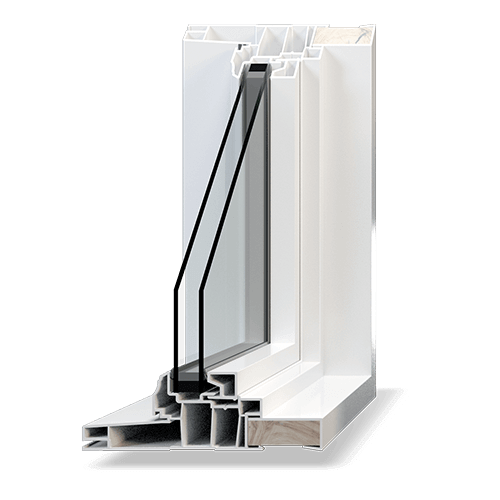 Classic PVC low-profile fixed window
The default profile used in our fixed and shaped windows. At only 2 inches high, it can be used to manufacture any window shape, while leaving plenty of glass area. Made of high-grade PVC, it has multiple chambers for insulation, and has a hermetic construction that prevents drafts and leaks. The slim beveled profile goes equally well with traditional and modern architectural styles.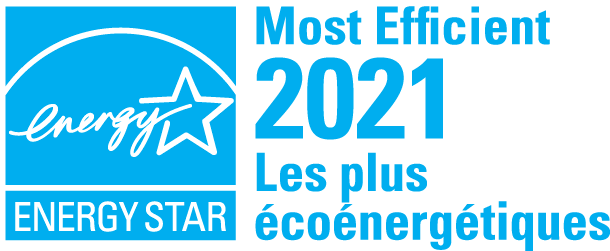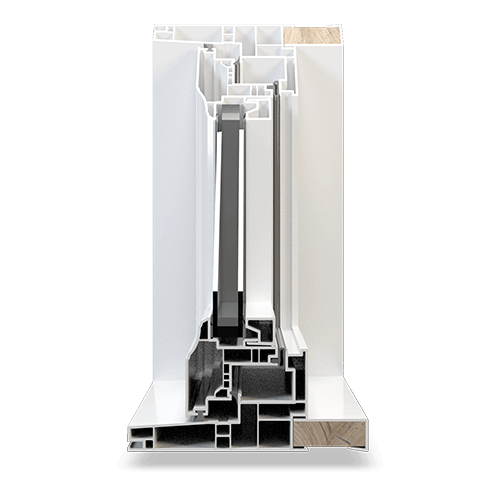 Classic PVC high-profile fixed window
Like the low-profile version, this window has a beveled finishing reminiscent of colonial homes of the past. It is used to yield a coordinated look and sight lines with adjacent Classic series PVC windows of any type — casement, awning, hung, sliding, bay, or bow. Mostly used in straight-edge shapes, but can also be cambered at a large radius.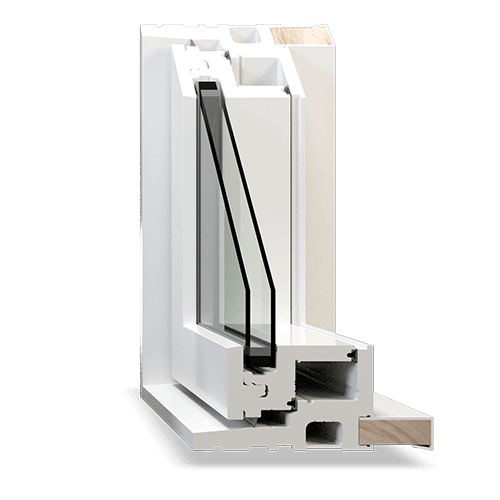 RevoCell® fixed window
Our strongest window can be manufactured in a fixed-sash version as well. With a mere 2-5/8" in height, it is durable but slim, and like the Classic low-profile version, it offers a large glass area. While used promarily for a coordinated look with adjacent RevoCell® windows, its microcellular PVC insulated construction offers high energy efficiency. It can be cambered for curved shapes on mid- to large radii.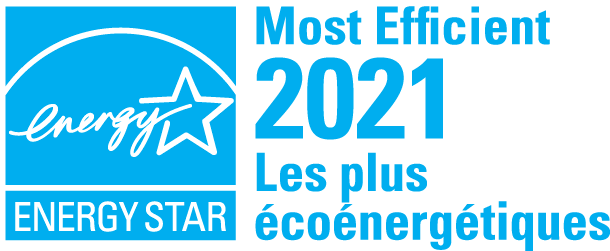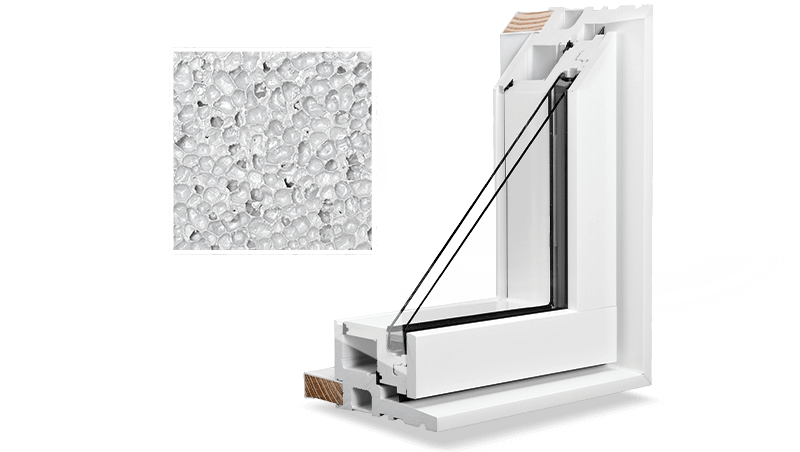 Why choose RevoCell® microcellular PVC for your high-profile fixed windows?
The answer is simple — get a coordinated look on your home when you also choose RevoCell® Casement, Awning, Bay, or Bow windows. The microcellular PVC window frames are solid, offering a stronger construction, with less plastic and more glass in your window when compared to a high-profile fixed PVC window. The microscopic cells also provide a better insulation value, achieving Energy Star Most Efficient rating.
Learn more about RevoCell®
Architectural Window Features
Here are some features of our fixed windows manufactured with the default Classic PVC low-profile fixed frames. They provide the utmost levels of insulation and protection for your home, lower your heating and cooling costs, and look great. For fixed windows built in high profiles, please refer to Classic PVC Casement and RevoCell® Casement pages for more details.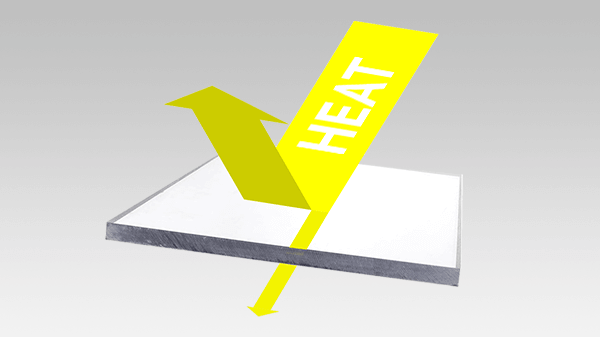 Low-emissivity glazing
An invisibly thin metallic coating is baked onto one or more of the glass pane surfaces, reflecting most of the heat in the form of infrared radiation back inside the home during winter and outside during summer, while letting most visible light pass through.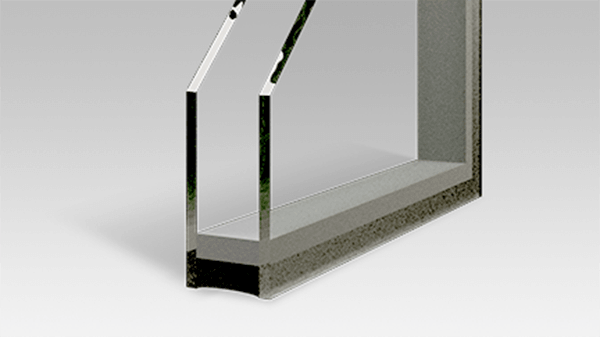 Dual-pane glazing
Two layers of glass are joined to create a sealed hollow chamber that acts as a thermal buffer between the inner and outer glass panes. This minimizes direct heat transfer through the glazing, and helps prevent condensation and ice build-up. It also allows for more solar heat gain during winter than with darker triple glazing.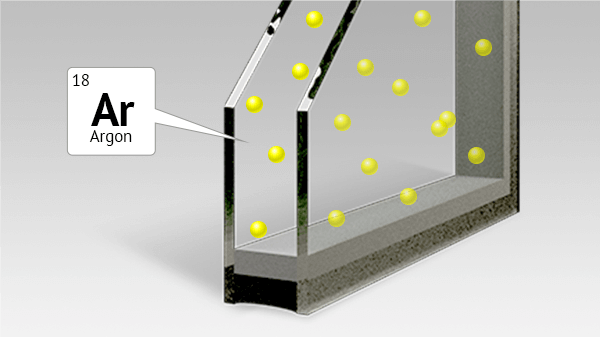 Argon gas filling
The air between the glass panes inside a thermal glass unit is replaced with argon. This inert, odourless gas is heavier than air, reducing convection between the panes and the associated heat loss through the insulated thermal glass unit. It also offsets water vapour to prevent condensation between the panes.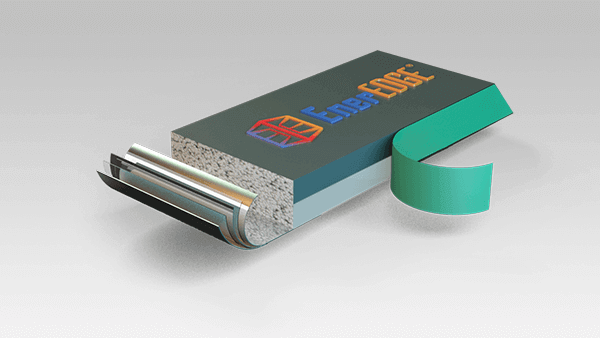 Ener-Edge® warm-edge spacer
Our thermal glass units use a cellular silicone warm-edge spacer that possesses low thermal conductivity, minimizing heat transfer between the interior and the exterior of the thermal glass unit. It also allows for the natural expansion and compression of the unit due to temperature changes without failing the seal between them.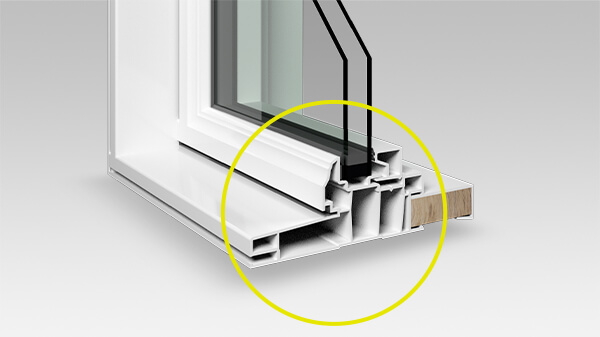 Multiple air chambers for insulation
Our multi-chambered construction allows for beter thermal protection. It also provides greater overall strength to the window, singnificantly increasing its longevity.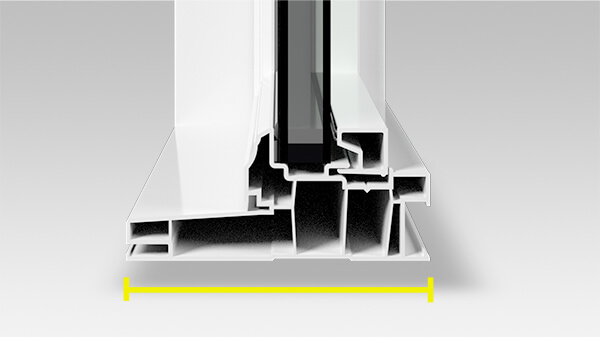 4-1/2" PVC fusion-welded frame
Our 4-1/2" frame is stronger and more durable than the standard 3-1/4" frame available from most other window manufacturers. It allows manufacturing our windows with fewer parts, and with virtually no points where leaks can happen.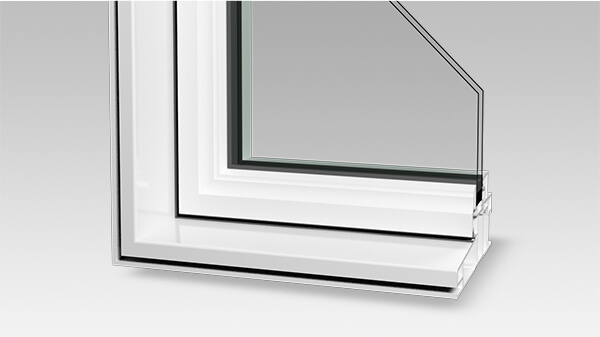 High-gloss finish
We use the highest grade PVC powder and fabrication techniques which result in a high gloss PVC finish. As a result, our windows are easier to clean, more durable, and won't fade or yellow over time.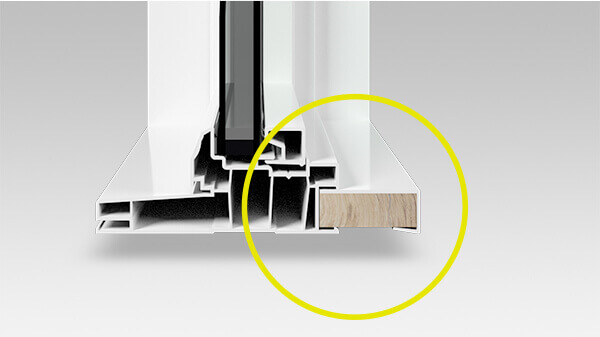 PVC-cladded interior wood extension
Our windows include an interior wood cladding that allows for the easy installation of blinds and other window treatments, and results in greater window strength and durability.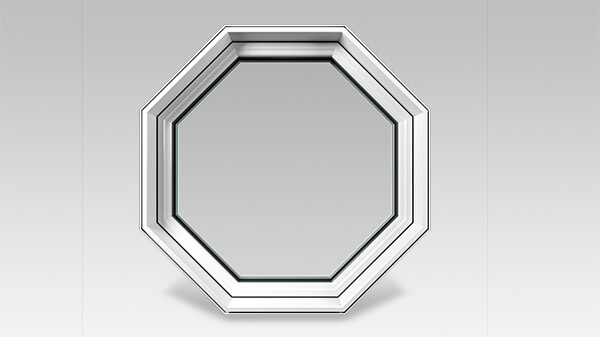 Traditional Look
Our Classic Series windows feature an ornately beveled profile that is reminiscent of colonial homes of the past. They also work well with more modern home designs, to create a timeless look.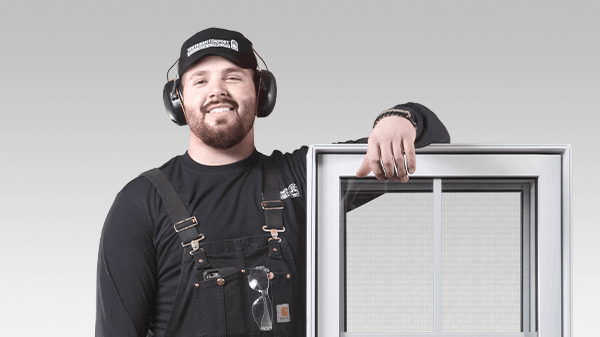 Professional installation
Only a professional installation allows a window to perform as it was designed. Factory-trained, certified profesional installers will fit and fine-tune your windows for smooth operation for many years to come, while making sure that your home is securely sealed against wind, water infiltration, pests and intruders.
Our low-profile fixed windows are Energy Star® Most Efficient
The manufacturing process of all Energy Star® certified RevoCell® windows sold by Northern Comfort Windows and Doors are audited by an independent accredited certification body and approved by Natural Resources Canada. Our windows and doors carry the Energy Star® label showing the specific climate zone for they are rated for.
Our low-profile fixed Classic Seriers PVC windows are rated for Energy Star Canada Zone 3, and are certified Energy Star® Most Efficient.
| | | | | | | |
| --- | --- | --- | --- | --- | --- | --- |
| Window Type | Air | Water | Wind | ER | Zone | Reference # |
| Fixed PVC | FIXED | B7 | C5 | 39 | 3 | NR6681-5649491-ES |
| Hybrid Fixed | FIXED | B7 | C5 | 39 | 3 | NR6681-5649495-ES |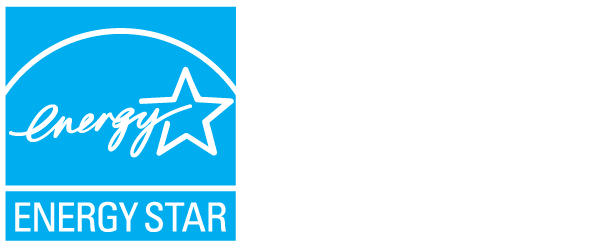 Learn more about energy efficient fixed windows.

Hybrid PVC / Aluminium Construction
Our Classic Series fixed and shaped windows are also available in a hybrid PVC / Aluminium construction. The factory-finished aluminium plating profile matches the window and is applied on the exterior side. It acts as an extra shield against strong mechanical forces (hail, hurricanes, debris, intruders, etc.) while offering a more durable colour finish. Consider the hybrid construction in high-traffic areas, commercial, condominia and other multi-storey residential buildings, as they are designed to withstand more abuse and provide better wind deflection capabilities.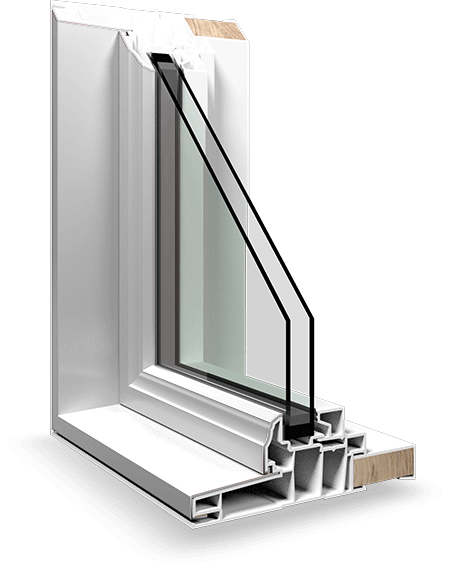 Your Very Own Custom Window Design
Gone are the days when window companies dictated what your home should look like. Every single window we build is as originally yours as you want it to be. From the window type and configuration, to colour and finishing, special glazing, decorative grilles, casing and capping, we can customize and build your windows exactly as you fancy them, ensuring they are durable and compliant to all norms and regulations.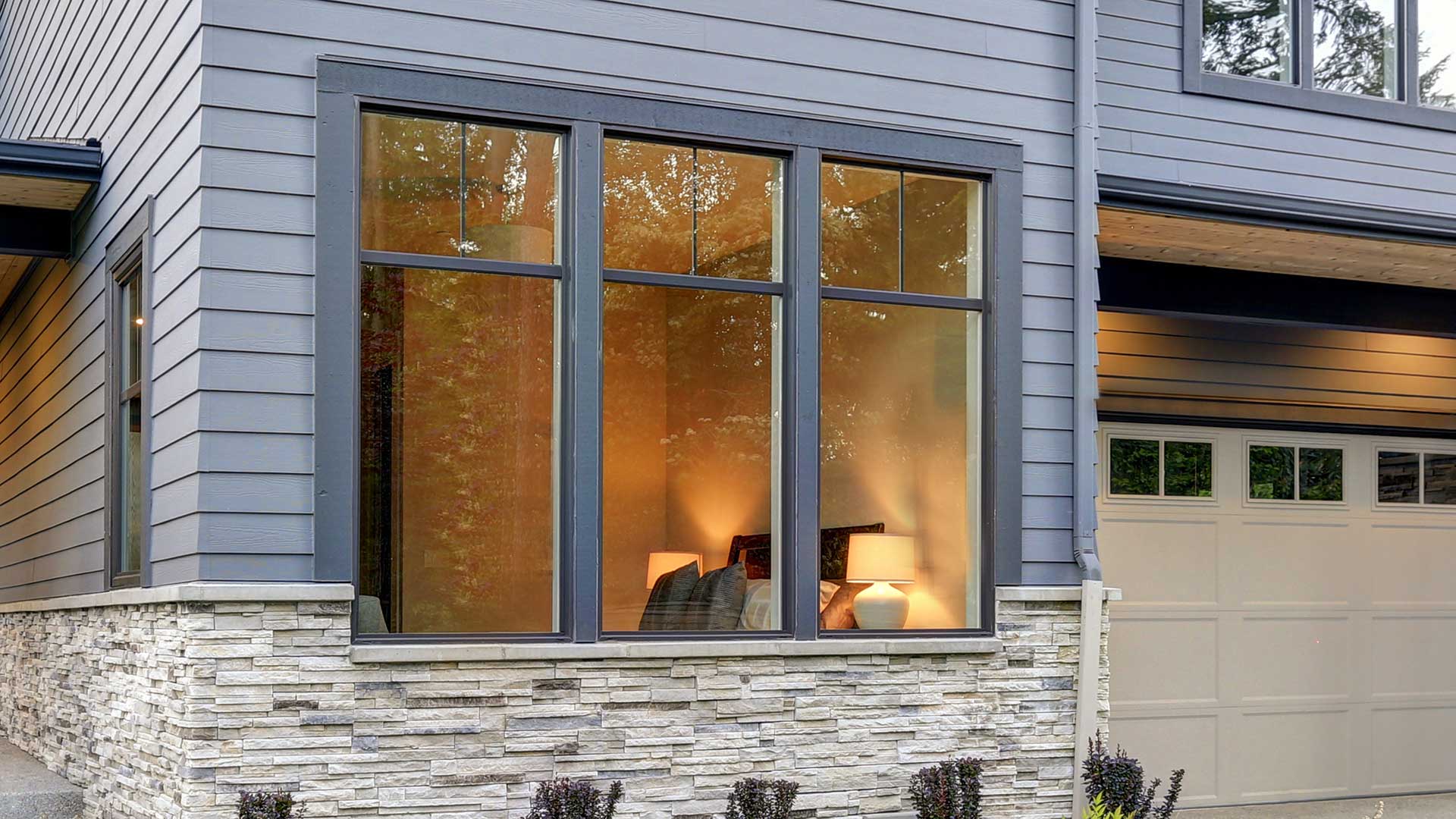 Colours and Custom Finishes
Add some colour to you home exterior by choosing from our popular standard window colours, or take your customization one step further with factory-applied wood essences or other finishes of your choice.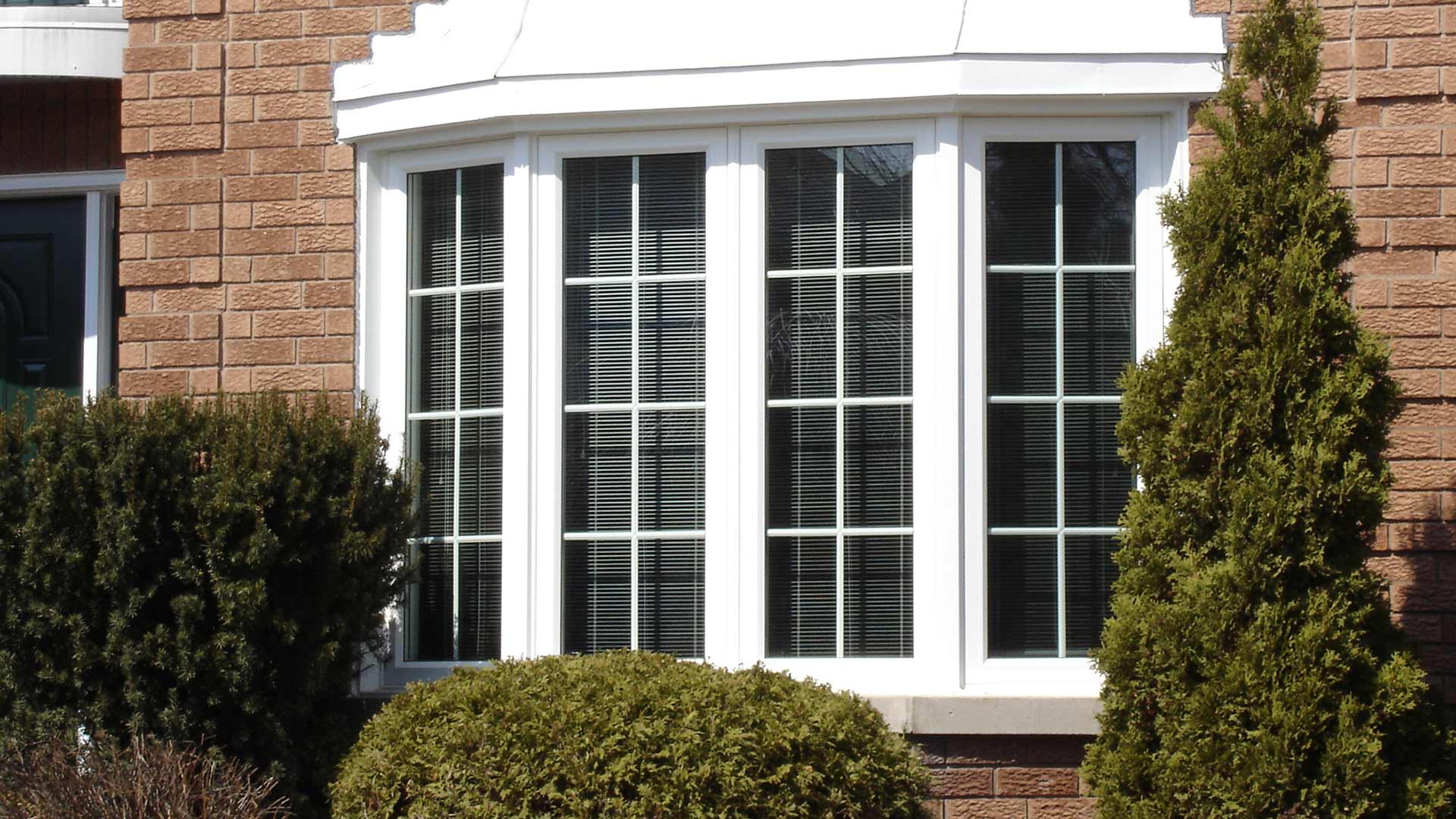 Grilles and Divided Lites
Between-the-glass grilles provide a decorative multi-lite look without the maintenance, while external simulated divided lites add more realism. Mix-and-match from a comprehensive selection of patterns, profiles, and finishes, for a look that's uniquely yours.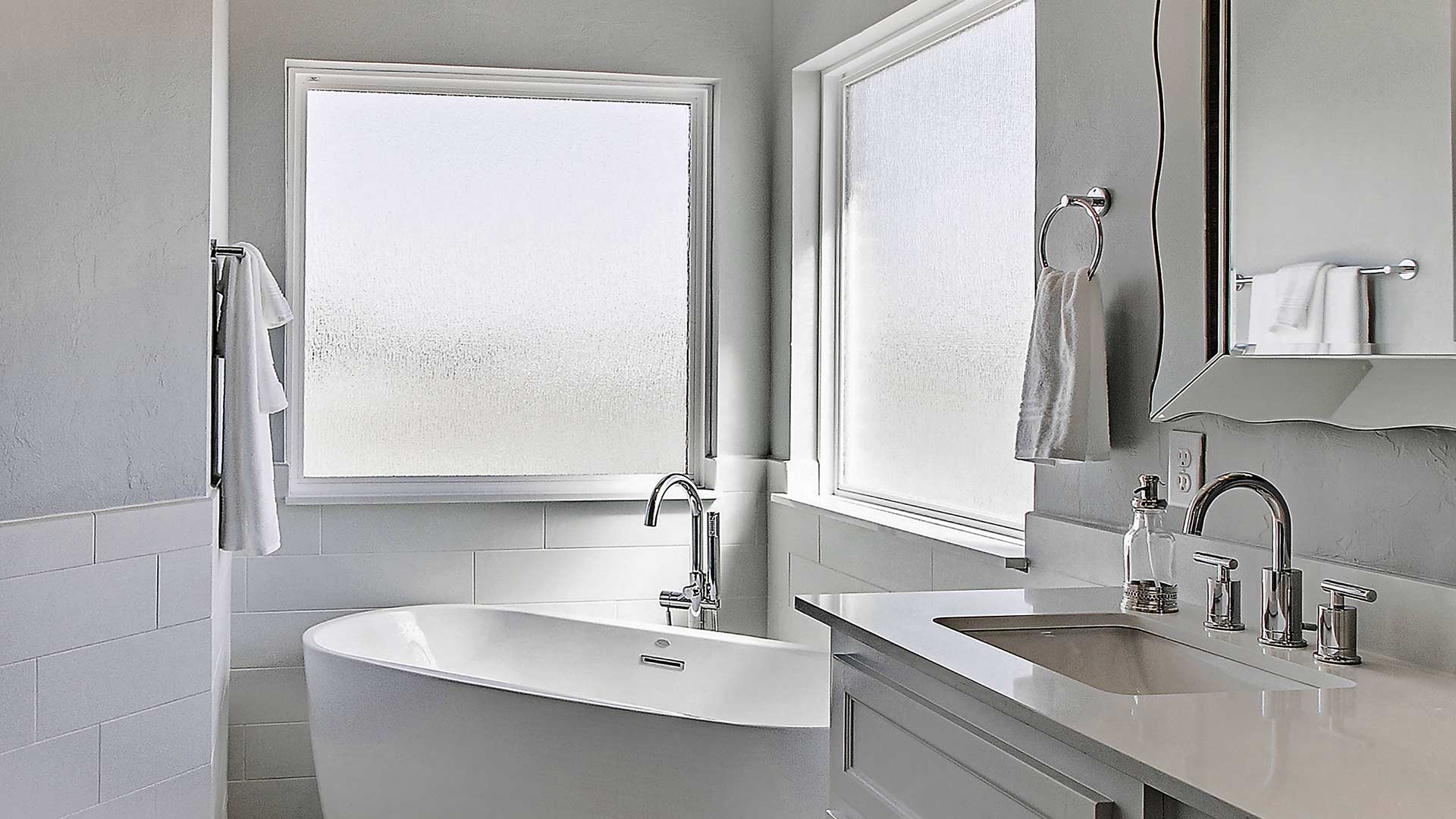 Specialty Glazing
Choose among multiple window tints to customize the light colour and exterior views, or opt for textured glass to add intricate details as well as varying degrees of privacy to those parts of your interior you want to keep private, all while getting as much light inside as possible.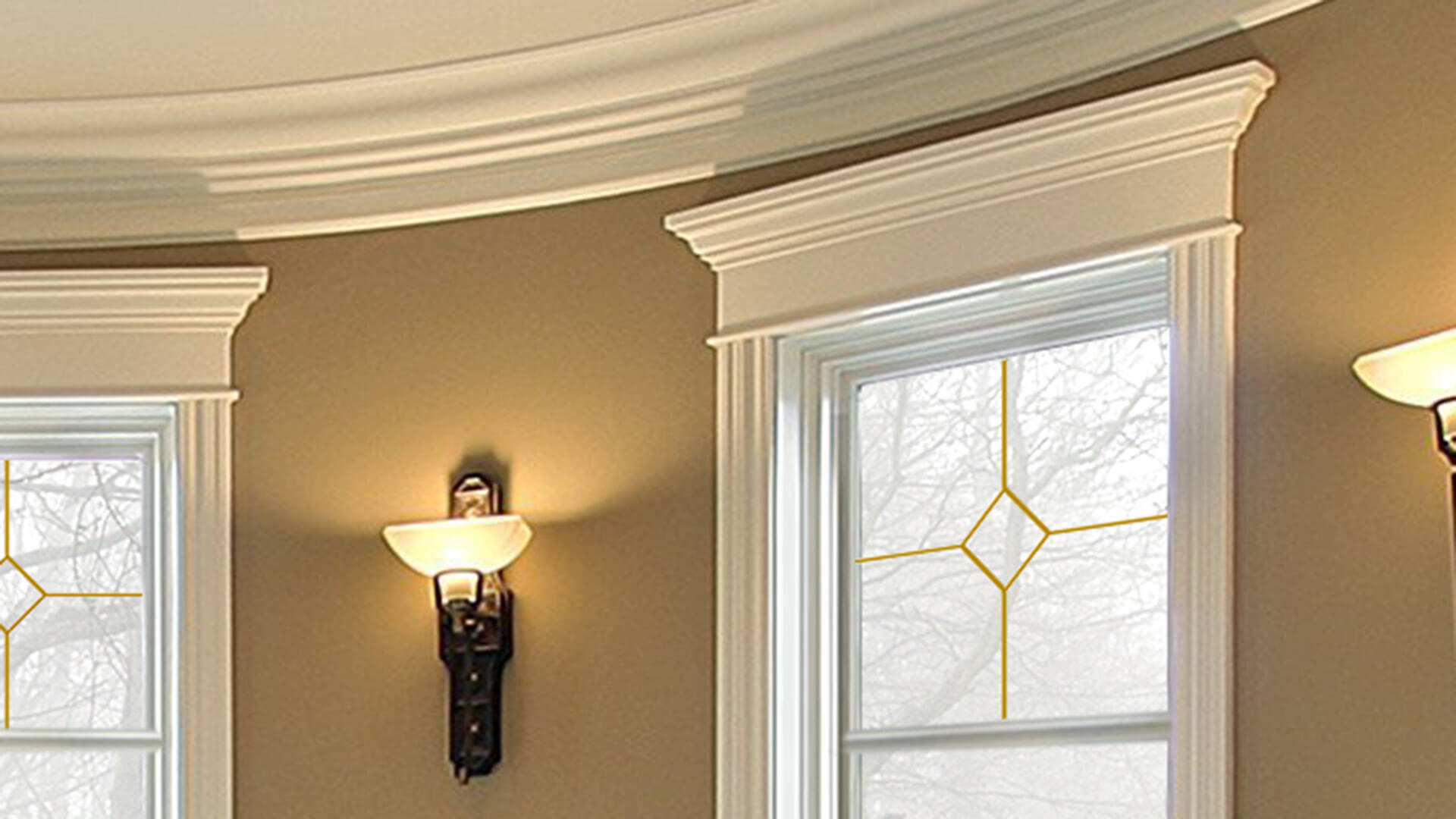 Casing & Trim
Whether you want to preserve and enhance a consistent style of your home, or you want to go for a new refreshed look, finishing around windows can help a lot with custom trim, moldings, capping and minute details that give grand refinement.
Learn more about our window customization options
Best Windows. Best Price.
We'll help you choose the the best windows for your home, and offer you the best price. Contact us today for a free in-home consultation and quote. No pressure, no obligation.
Your information is secure and we will not spam you.