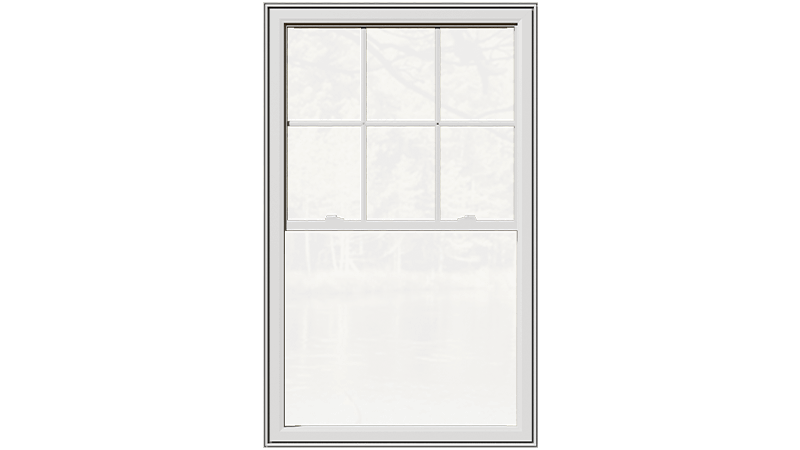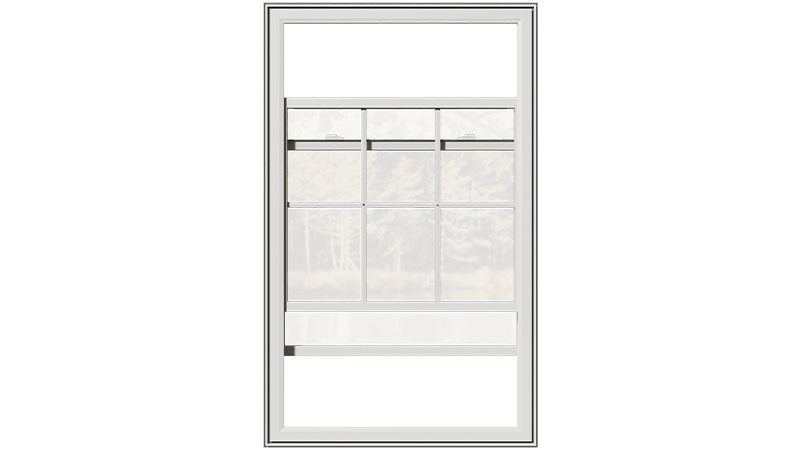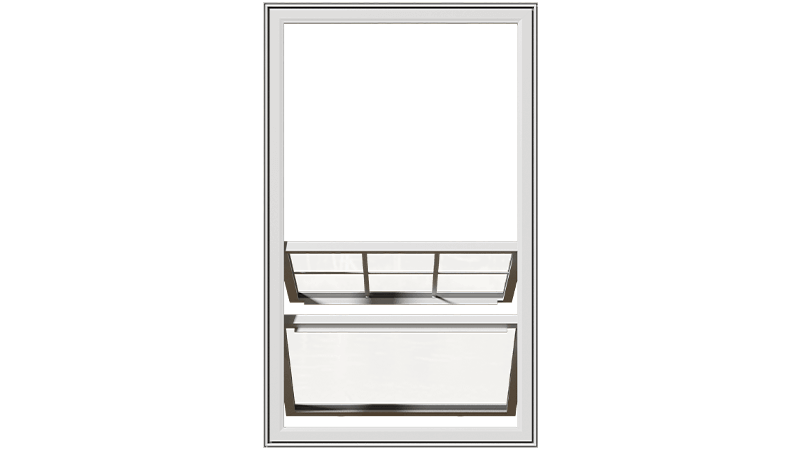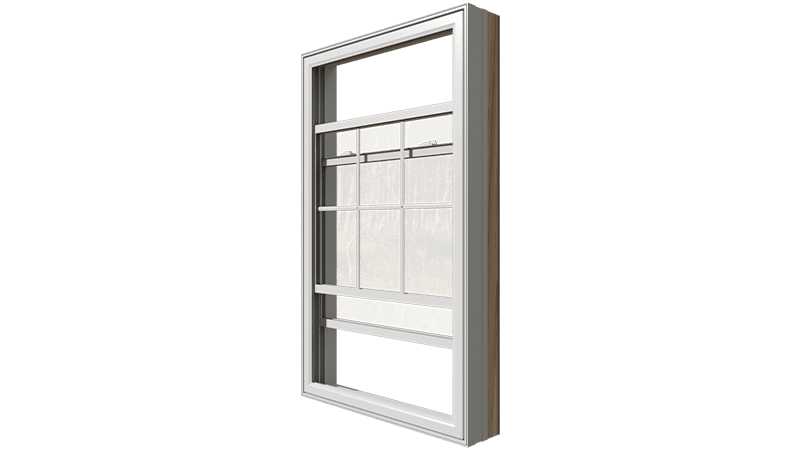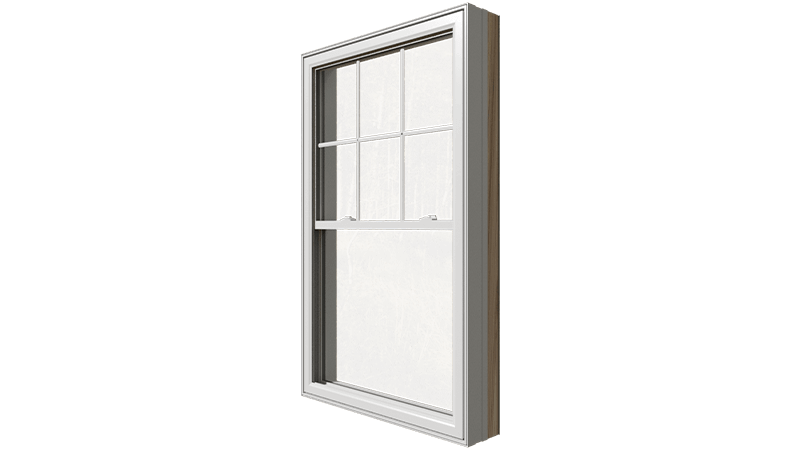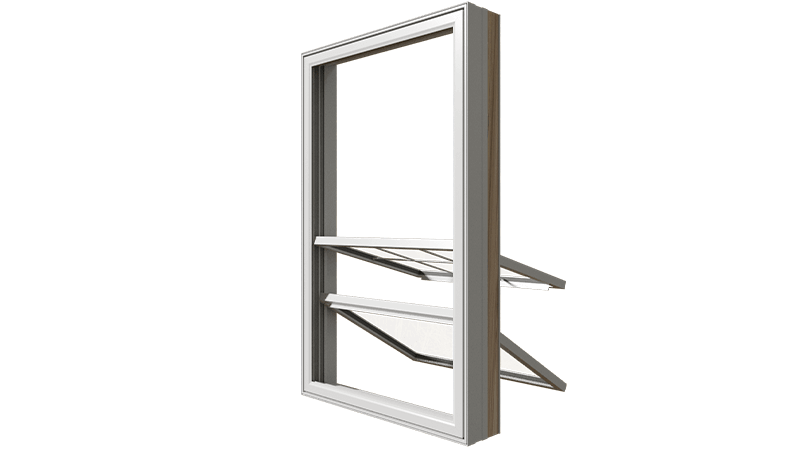 Northern Comfort PVC Double Hung Windows bring top performance and extra convenience to a old-world window design that still tops popularity charts in North America. Our Classic Series windows feature an ornate traditional profile that goes equally well with heritage and contemporary homes. Both sashes of our hung windows move for ventilation, and tilt in for easy cleaning. The multiple air chambers offer great insulation, and the one-piece structural construction with integrated brickmoulds add extra protection against infiltration and leakage.

When to Choose Double Hung Windows
Hung sash windows are a staple native to England and Holland, and as such they were used almost exclusively in the colonial homes of Canada and the USA for operable windows. Centuries later, they still bring convenience and charm to country and urban homes alike. The vertically moving sashes allow for ventilation without taking any interior or exterior space, which makes them especially useful in high traffic areas, such as by sidewalks. They are also convenient in restricted spaces, and in proximity of garden or landscape features.
Our double hung windows feature a constant force balancing system that allows for effortless sliding up and down, for either sash. Cam action locks come standard to secure the sahes in place. Another standard feature is that both sashes tilt in for easy cleaning from inside, making maintenance a breeze, regardless of where the hung sash windows are installed. We also offer the choice of installing a movable half-screen, or a full screen on the window. The slim insulated sashes minimize the overall window frame to allow for more indoor light.
Hung windows are made almost exclusively in vertical sizes, often following the golden ratio for traditional aesthetics standards. They are often installed in rows to allow for wider glazing areas, yielding a style distinctive to Victorian and Tudor homes.
The Northern Comfort double hung windows offer the best mix of convenience and energy efficiency, and are also manufactured in hybrid aluminium/pvc construction suitable for commercial spaces and mid-rise condos, to offer a more durable construction and finish.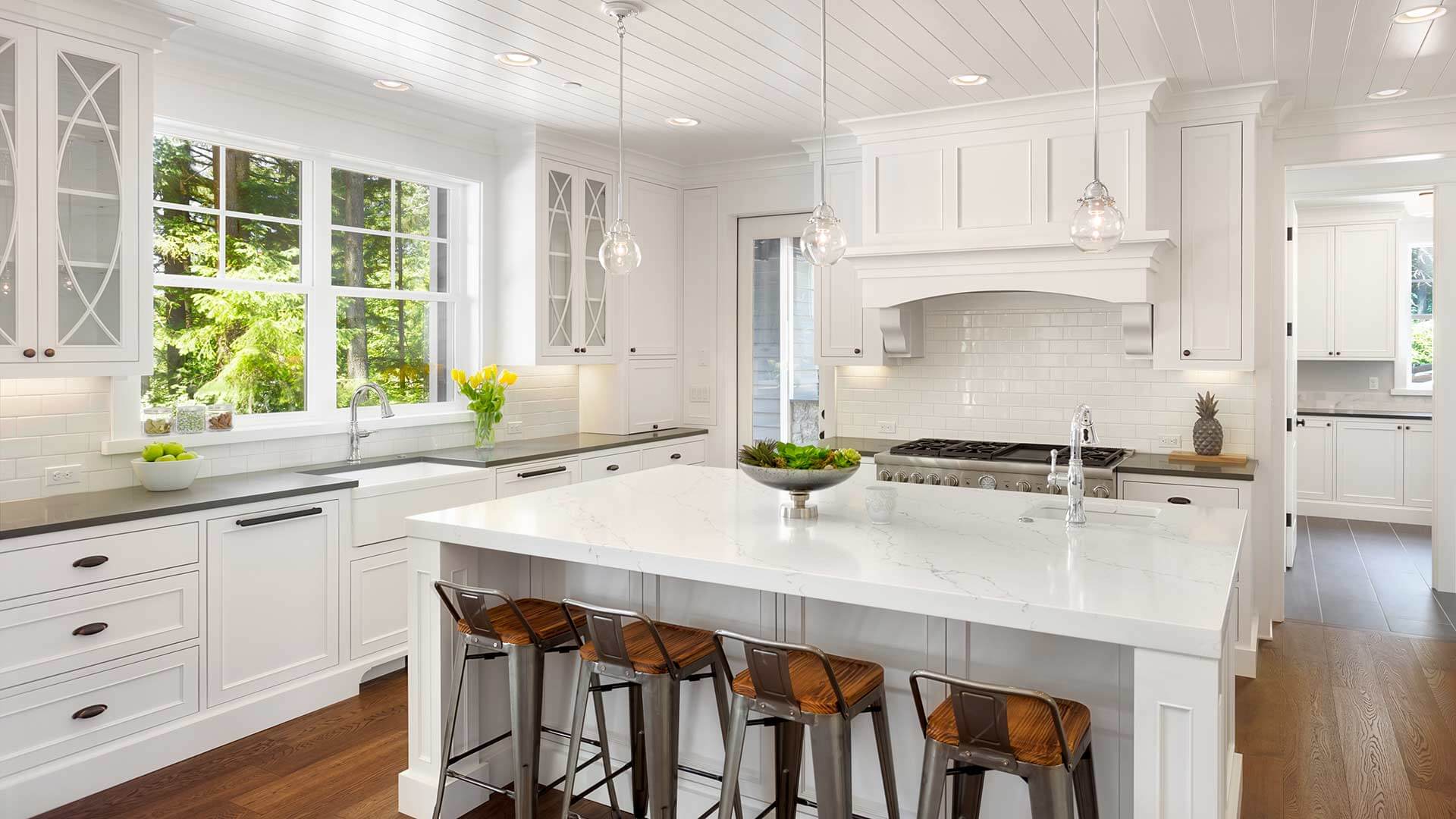 Classic Series PVC Double Hung Window Features
Here are some of the features that make our windows great for keeping your home comfortable while lowering your energy bills.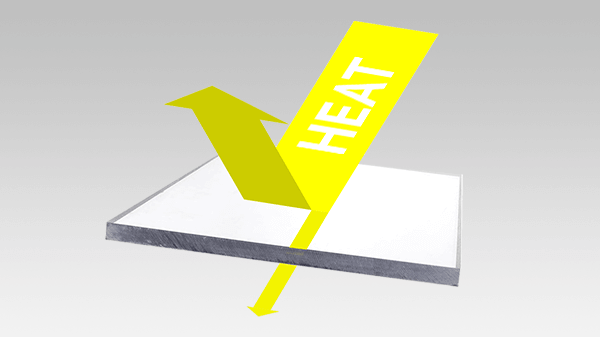 Low-emissivity glazing
An invisibly thin metallic coating is baked onto one or more of the glass pane surfaces, reflecting most of the heat in the form of infrared radiation back inside the home during winter and outside during summer, while letting most visible light pass through.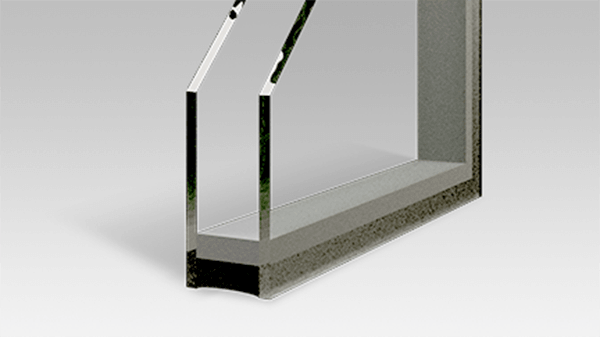 Dual-pane glazing
Two layers of glass are joined to create a sealed hollow chamber that acts as a thermal buffer between the inner and outer glass panes. This minimizes direct heat transfer through the glazing, and helps prevent condensation and ice build-up. It also allows for more solar heat gain during winter than with darker triple glazing.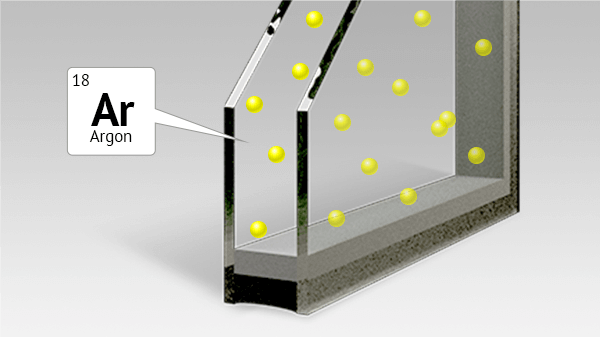 Argon gas filling
The air between the glass panes inside a thermal glass unit is replaced with argon. This inert, odourless gas is heavier than air, reducing convection between the panes and the associated heat loss through the insulated thermal glass unit. It also offsets water vapour to prevent condensation between the panes.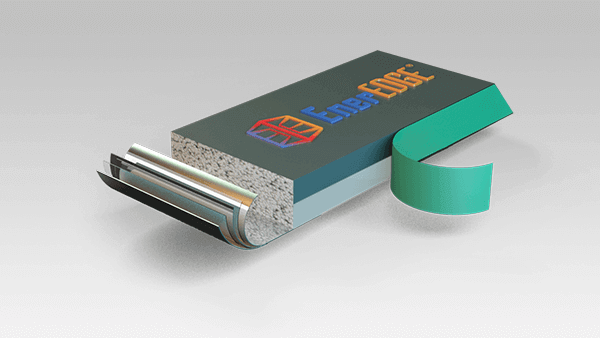 Ener-Edge® warm-edge spacer
Our thermal glass units use a cellular silicone warm-edge spacer that possesses low thermal conductivity, minimizing heat transfer between the interior and the exterior of the thermal glass unit. It also allows for the natural expansion and compression of the unit due to temperature changes without failing the seal between them.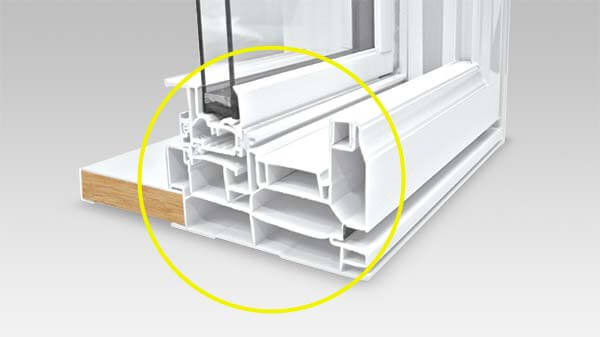 Hollow-chambered PVC frames
Our Classical series PVC window frames, sashes, and brickmoulds feature multiple air chambers for superior insulation. They are fusion-welded for an impervious joint that prevents the air from moving in or out of the window frame or between the chambers.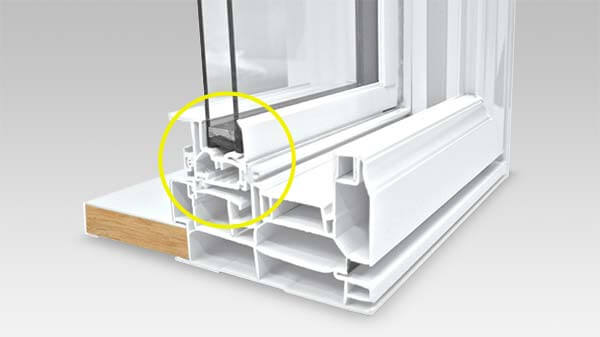 Multiple weatherstripping
Moving window sashes use distinct continuous weatherstripping seals at the interface with the stationary window frame. This reduces drafts and the associated heat leaks through the window. Also, the thermal glass unit itself is sealed to the sash from both the inside and the outside.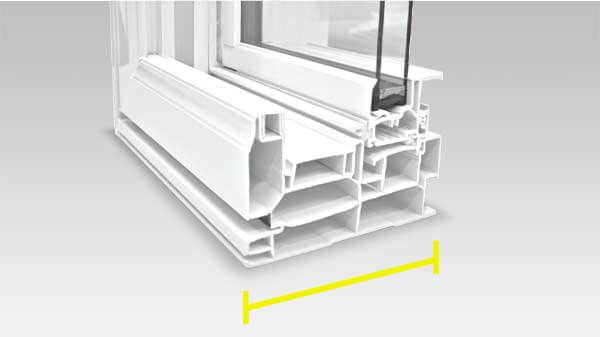 4-1/2" PVC welded frame
Our 4-1/2" frame is stronger and more durable than the standard 3-1/4" frame available from most other window manufacturers. Our larger frame allows us to put the thermal pane closer to the inside of the house resulting in better thermal protection and a stronger window.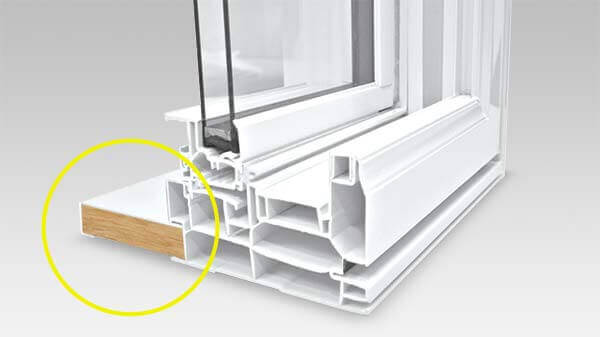 PVC-cladded interior wood extension
Our windows include an interior wood cladding that allows for the easy installation of blinds or other window treatments, and results in greater window strength and durability.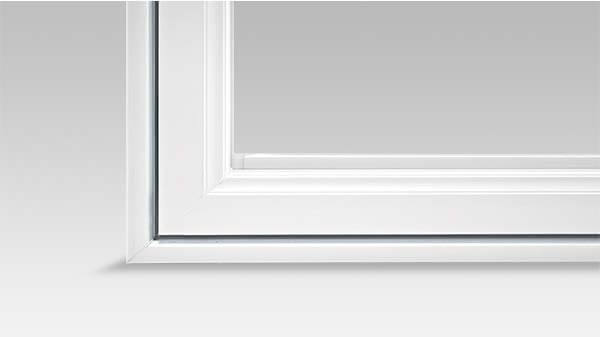 High-gloss finish
We use the highest grade PVC powder and fabrication techniques which result in a high gloss PVC finish. As a result, our windows are easier to clean, more durable, and won't fade or yellow over time.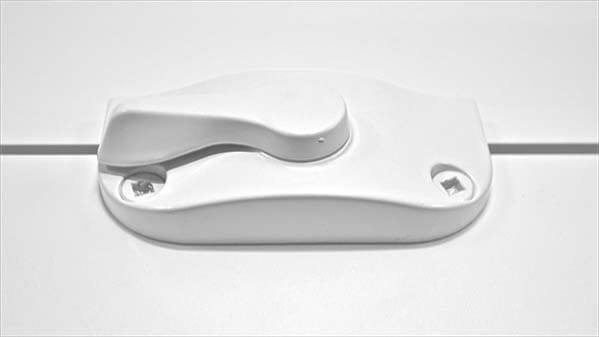 Decorative cam action locks
Our double hung windows are securely locked in position using the smooth decorative cam action locks.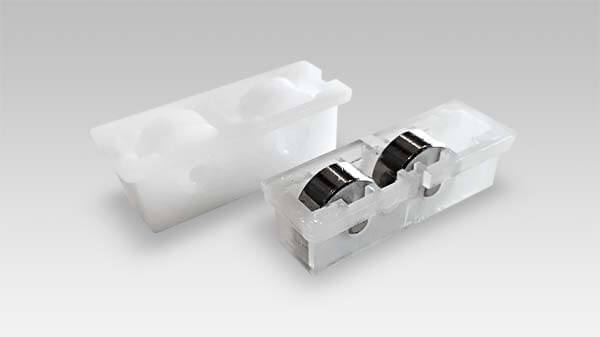 Constant force balancing system
Our double hung windows use a built-in double-coil constant force balancing system, allowing for a smooth and easy operation of the sashes.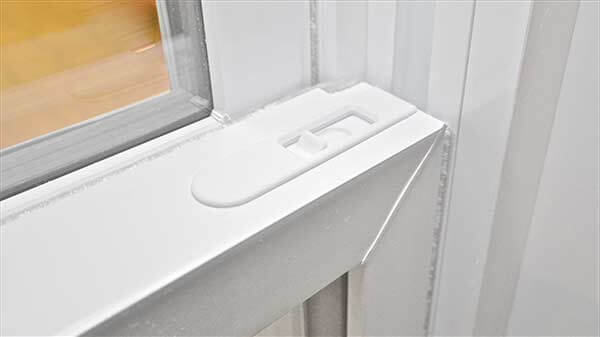 Integrated sash latches
Our low-profile integrated hung window latches feature a durable spring-loaded design, allowing the sash panels to tilt in and down for easy cleaning.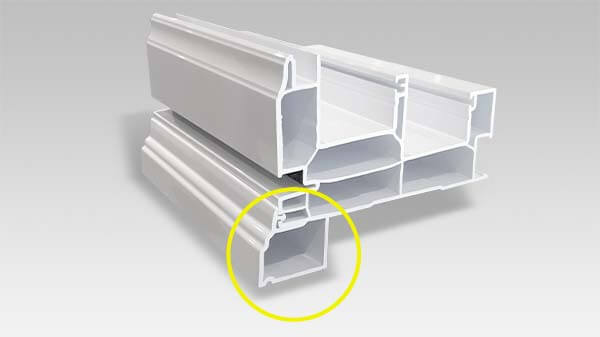 Insulated brickmould
Our brickmould is co-welded with the frame at the factory, creating a superior window finish that's part of the window structure and doesn't require capping – this means less chance of water and air leakage.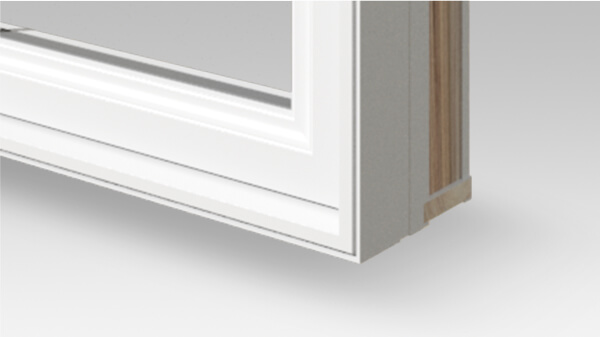 Traditional Look
Our Classic Series windows feature an ornately beveled profile that is reminiscent of colonial homes of the past. They also work well with more modern home designs, to create a timeless look.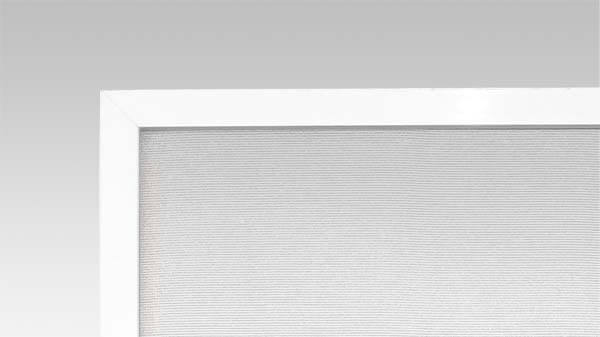 Full- or half-screen option
Our smooth-edge, easy-to-remove screens with pull tabs come standard in full-size on hung windows, with half screen as an option. They feature a durable aluminium finish to prevent warping or breaking down over time, like some of the competition's.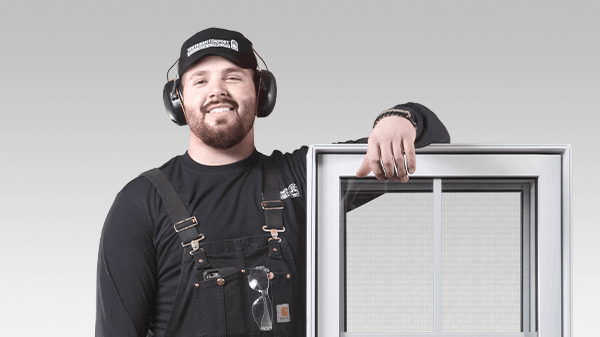 Professional installation
Only a professional installation allows a window to perform as it was designed. Factory-trained, certified profesional installers will fit and fine-tune your windows for smooth operation for many years to come, while making sure that your home is securely sealed against wind, water infiltration, pests and intruders.
Energy-Efficient Hung Windows
The manufacturing process of all Energy Star® certified double hung windows sold by Northern Comfort Windows and Doors are audited by an independent accredited certification body and approved by Natural Resources Canada. Our windows and doors carry the Energy Star® label showing the specific climate zone for they are rated for.
Our Classic Series PVC double hung windows are rated for Energy Star Canada Zone 2.
| | | | | | | |
| --- | --- | --- | --- | --- | --- | --- |
| Window Type | Air | Water | Wind | ER | Zone | Reference # |
| PVC | A3 | B7 | C2 | 34 | 3 | NR6681-5649475-ES |
| Hybrid | A3 | B7 | C2 | 33 | 2 | NR6681-5649479-ES |
Learn more about energy efficient hung windows.

Hybrid PVC / Aluminium Construction
Our Classic Series double hung windows are also available in a hybrid PVC / Aluminium construction. The factory-finished aluminium plating profile matches the window and is applied on the exterior side. It acts as an extra shield against strong mechanical forces (hail, hurricanes, debris, intruders, etc.) while offering a more durable colour finish. Consider the hybrid construction in high-traffic areas, commercial, condominia and other multi-storey residential buildings, as they are designed to withstand more abuse and provide better wind deflection capabilities.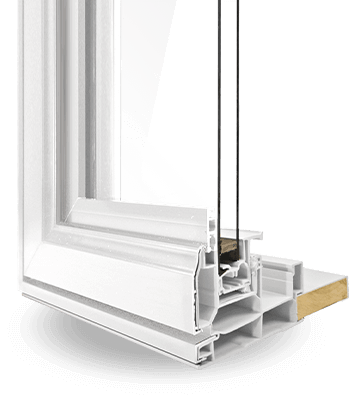 Your Very Own Custom Window Design
Gone are the days when window companies dictated what your home should look like. Every single window we build is as originally yours as you want it to be. From the window type and configuration, to colour and finishing, special glazing, decorative grilles, casing and capping, we can customize and build your windows exactly as you fancy them, ensuring they are durable and compliant to all norms and regulations.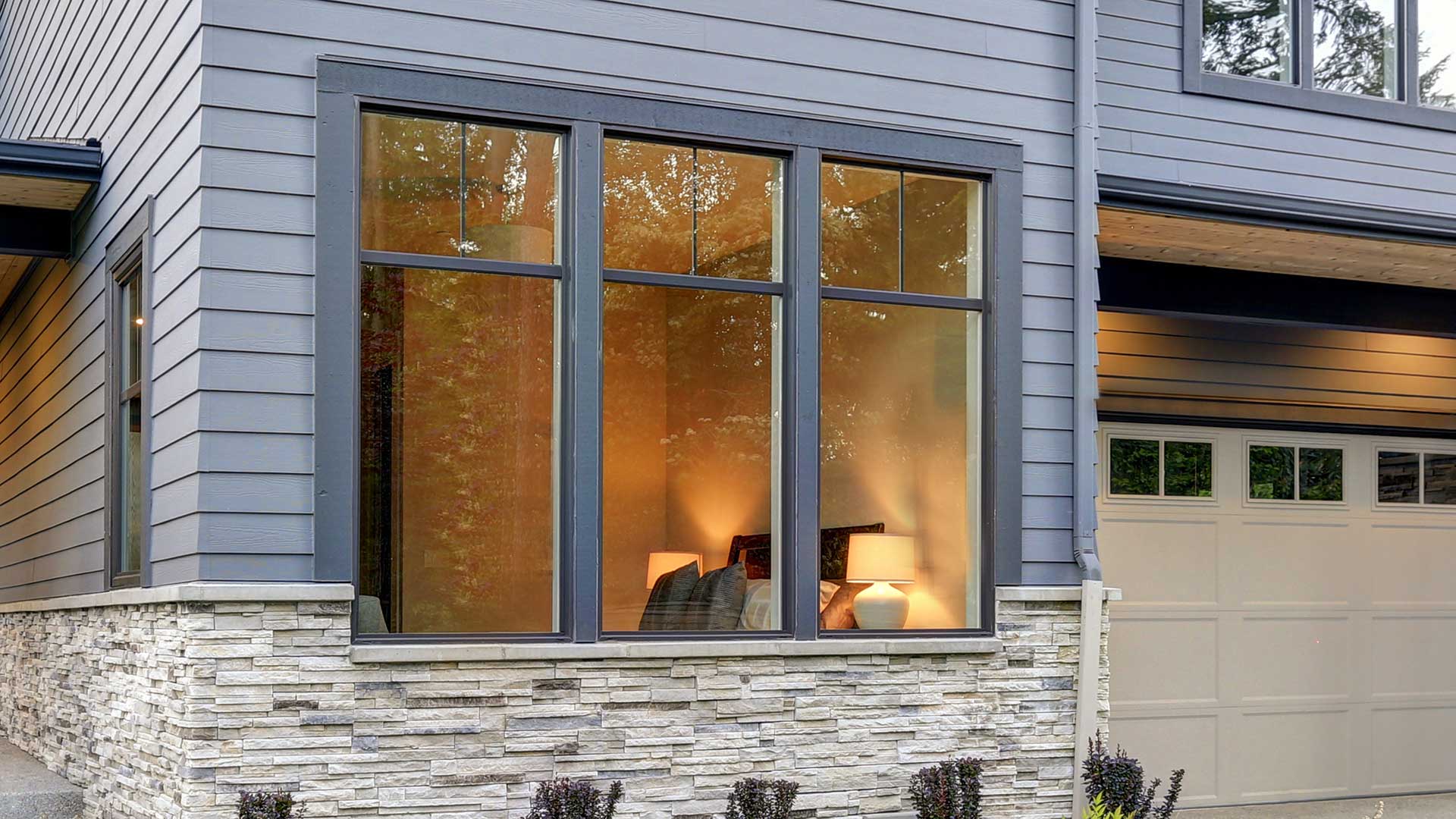 Colours and Custom Finishes
Add some colour to you home exterior by choosing from our popular standard window colours, or take your customization one step further with factory-applied wood essences or other finishes of your choice.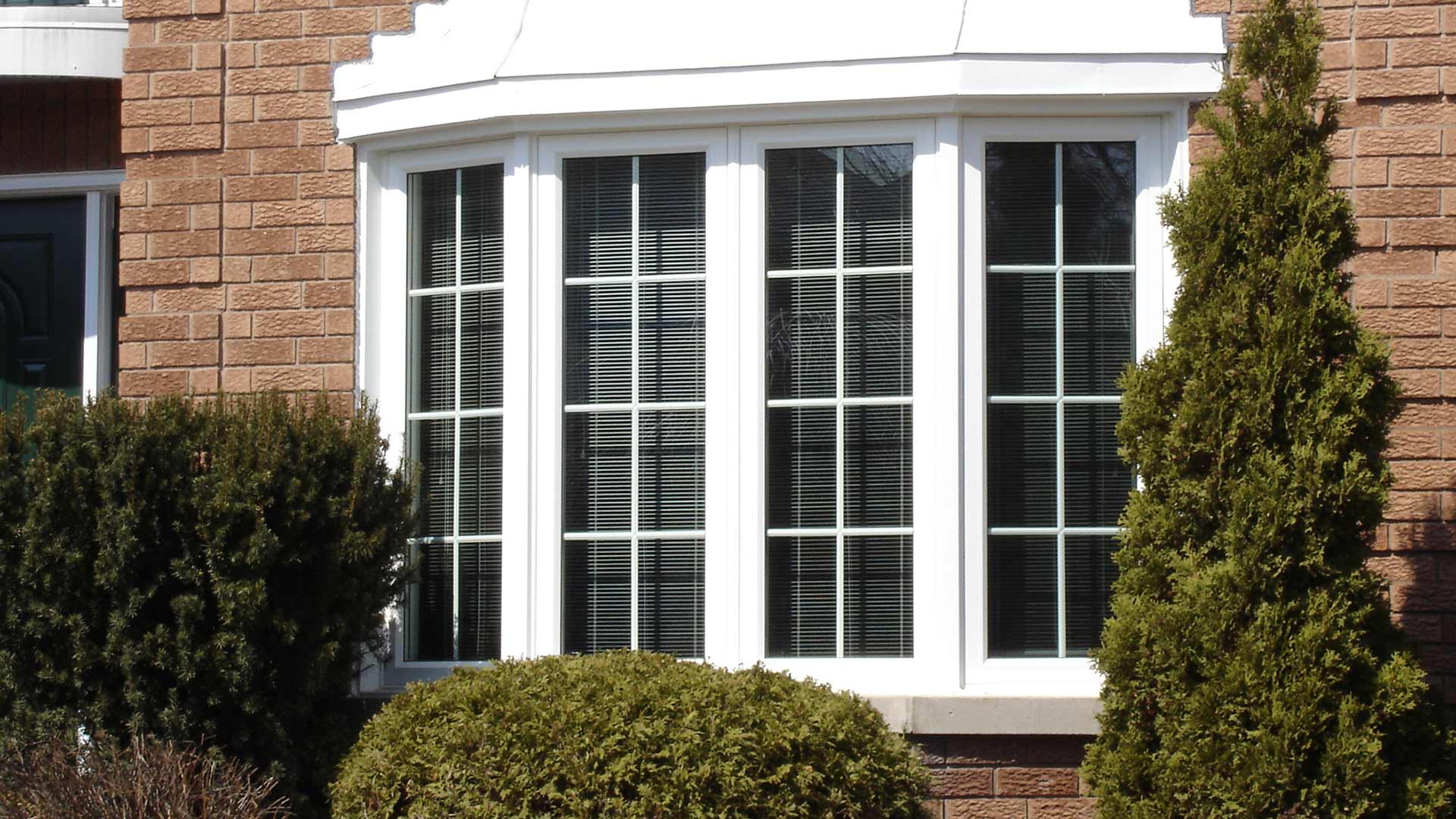 Grilles and Divided Lites
Between-the-glass grilles provide a decorative multi-lite look without the maintenance, while external simulated divided lites add more realism. Mix-and-match from a comprehensive selection of patterns, profiles, and finishes, for a look that's uniquely yours.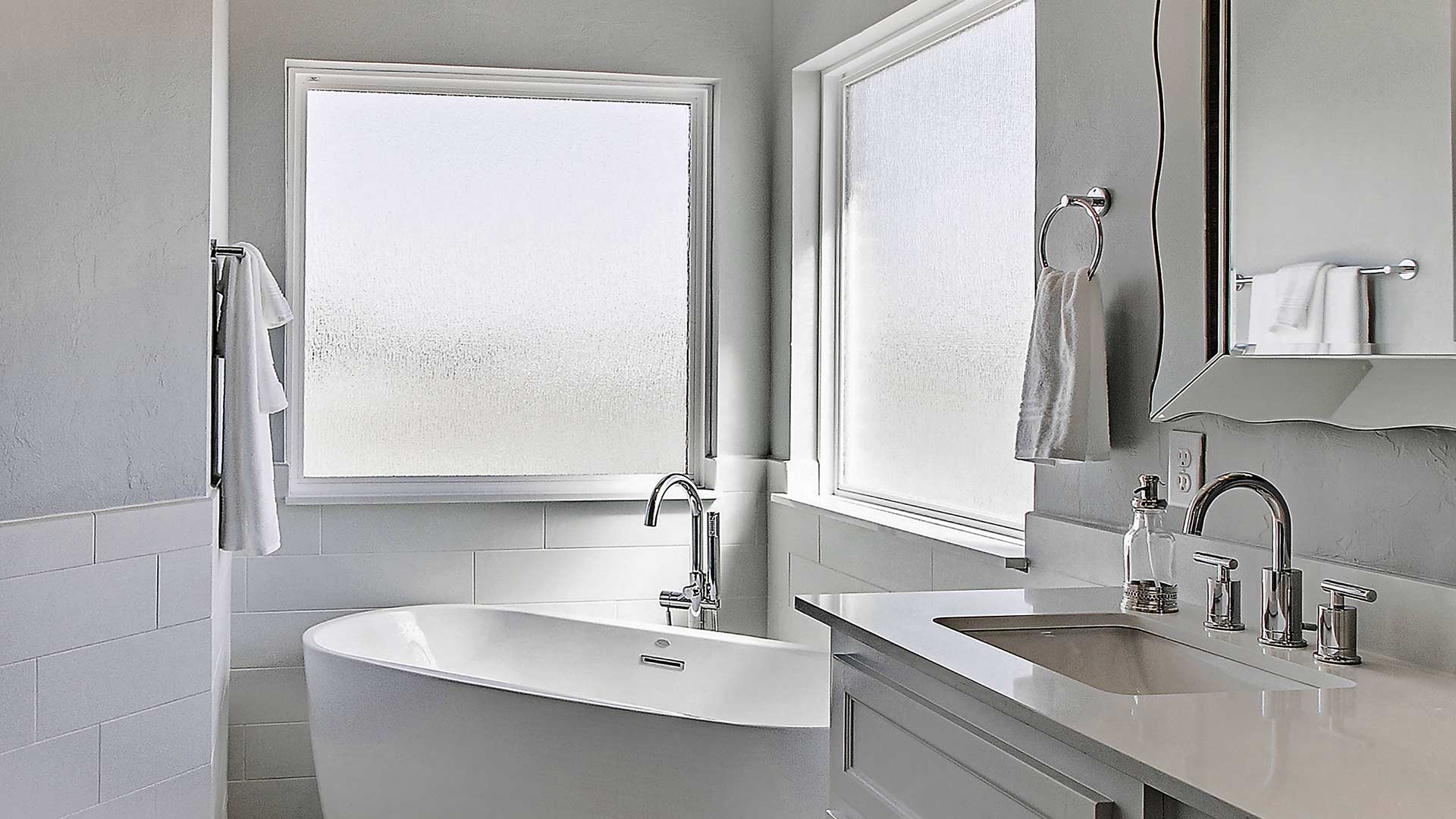 Specialty Glazing
Choose among multiple window tints to customize the light colour and exterior views, or opt for textured glass to add intricate details as well as varying degrees of privacy to those parts of your interior you want to keep private, all while getting as much light inside as possible.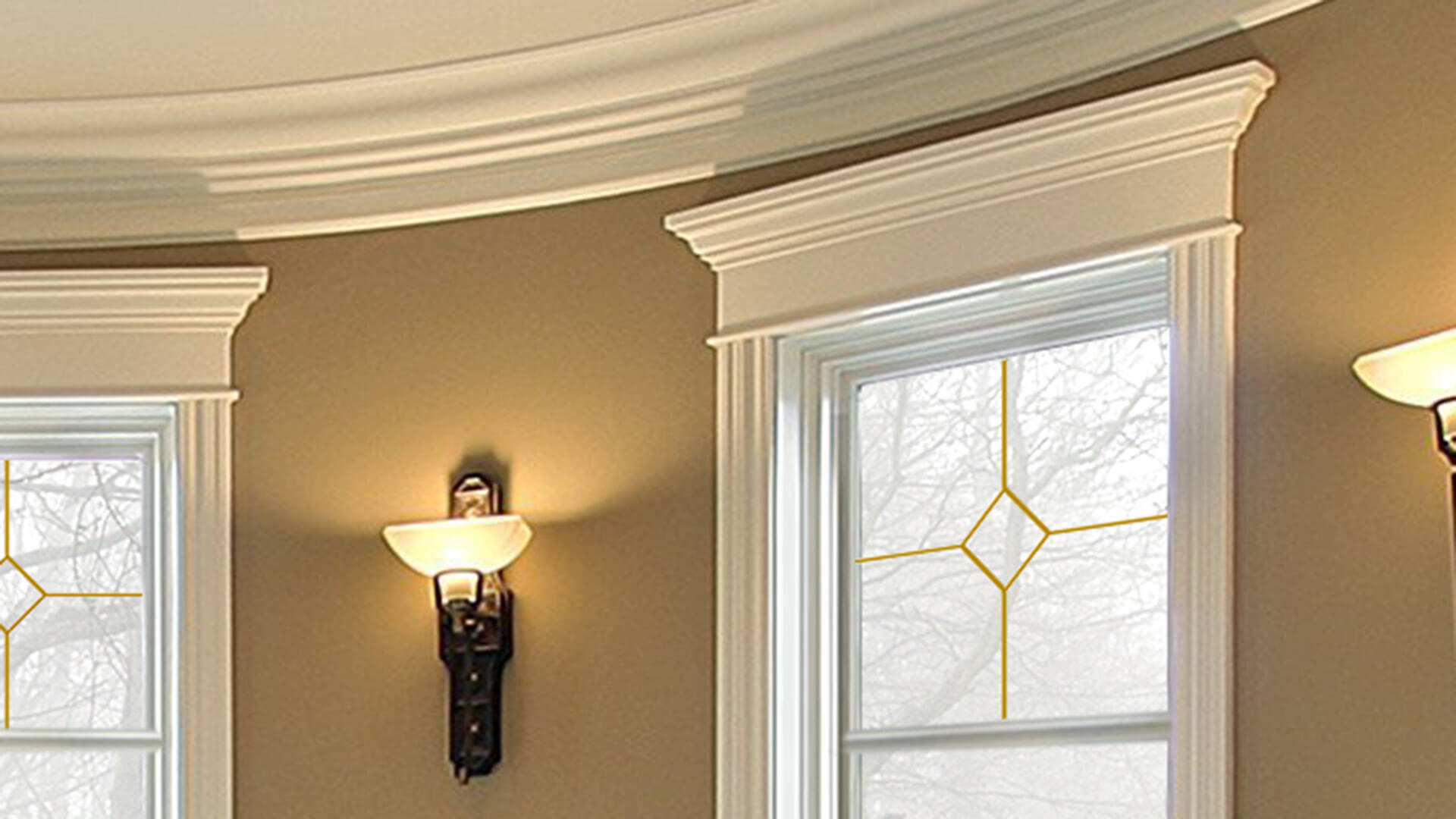 Casing & Trim
Whether you want to preserve and enhance a consistent style of your home, or you want to go for a new refreshed look, finishing around windows can help a lot with custom trim, moldings, capping and minute details that give grand refinement.
Learn more about our window customization options
Best Windows. Best Price.
We'll help you choose the the best windows for your home, and offer you the best price. Contact us today for a free in-home consultation and quote. No pressure, no obligation.
Your information is secure and we will not spam you.