New Doors and Windows Installation: The Benefit, Style and Features of French Doors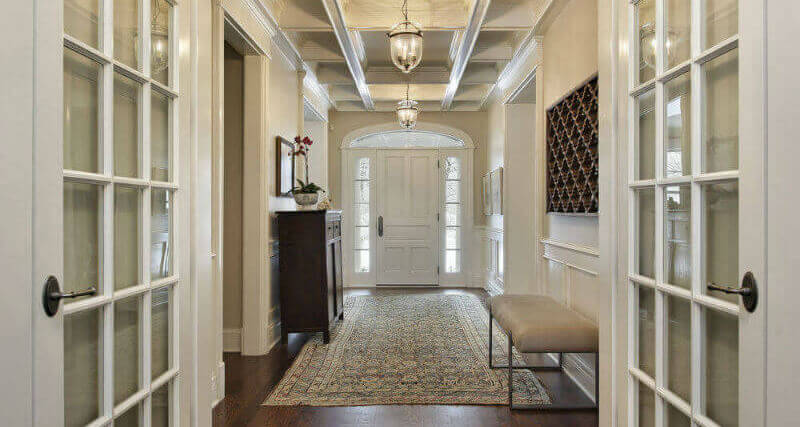 The French or double entry door contains glass for its full length. "French" doors were first used in France during the 17th century and originated as windows that reached to the floor and led onto small balconies. Today, the doors have evolved greatly since their conception and have more purposes than originally intended - adding French doors to your home or office can add a sense of openness, structure, and beauty. French doors are used as both entry doors and as interior doors that separate two spaces with the iconic divided-glass-panes design being the most popular because it allows for some privacy, while still offering a visual connection between two spaces.
At Northern Comfort Windows and Doors, we've been supplying and installing beautiful top-of-the-line French doors throughout Aurora, Collingwood, Richmond Hill, Caledon, Barrie, Newmarket, Midland, Orangeville and the surrounding areas. We value each client and are honest and upfront about the cost and details of every installation. As part of our commitment to excellence, here's a few more things you should know about choosing French doors for your new home, office, or renovation project, including the swing, window or glass type, the material of the door, its color, and its size:
French doors are offered in both in-swing and out-swing fittings from the center of the door opening, so be sure to plan for space around the door.
French doors can have a flat panel of glass or lites, which usually extend the entire height of the door, but are also available in half-view and three-quarter view options.
French door materials typically offered include wood, steel, or aluminum and they should be maintained and painted as often as windows.
French doors are available in a variety of colors and styles.
Standard door sizes start at 1 foot 6 inches and are offered at 2-inch increases to 3-feet wide. Fitting with standard door openings, stock door heights are 6 feet 8 inches; 7 feet; and 8 feet with custom options available.
Pre-hung French doors eliminate many of the steps necessary to installing a door, and always follow the guidelines supplied by the manufacturer.
Curtains and blinds are sometimes installed, just as with an exterior window, to provide more privacy.
Northern Comfort Windows and Doors has made a name for itself as the leader in Aurora, Newmarket, and Barrie for windows and doors because of our massive inventory of quality products. If you have questions about French Doors for your home, contact Northern Comfort Windows and Doors' service department directly in Barrie at 705-733-9600 and in Newmarket at 905-853-9400 or within the surrounding areas toll free at 1-888-220-2221 today.