How Do I Know When I Need New Windows?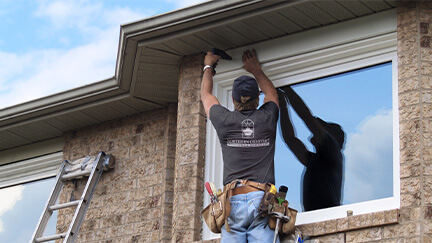 We all dream of owning our own home. It's a wonderful feeling to have a place that you call your own; however maintaining a home is not an easy undertaking. With all of the daily tasks that come with the responsibility of owning a home, sometimes renovations get overlooked.
When was the last time you thought about your windows? Are they secure enough? Are they easy to open in the event of an emergency? Windows can play an important part in the safety of your family, so it is vital they work properly and are up-to-date. Energy efficient windows can also help reduce the cost of energy bills.
There are also functional and aesthetic advantages to replacing your windows, especially for older homes. It's important that your windows work properly, to keep you and your family safe. But you also want them looking nice. Deteriorating windows can make a home look aged and damaged, which affects the resale value.
What Are the Signs That It's Time for New Windows?
Poor Performance: When windows get old, opening and closing becomes difficult or even impossible. Air leaks through cracks and condensation builds up between glass panes. You will notice your energy bill increases because your windows are not capturing solar heat like they should.
Appearance: You may start seeing chipped paint, cracked glass or frame, peeling caulk or seal, or rot, mold and decay inside or outside windows. The design may simply be out of style and in need of an update.
Effort: The glass doesn't sparkle and shine like it did when it was new, even after you clean it. If you need to replace parts, they are difficult or impossible to find because of how outdated the style is.
Whether you are looking to increase the value of your home, attempting to create a safer environment for your family, or trying to reduce energy costs, the best way to accomplish this is by replacing your old windows.
What Are the Benefits of New Windows?
The benefits of new windows greatly outweigh the costs. Your family will be more secure with windows that open and lock properly. The increased energy efficiency of your new windows will save you money on your energy bill throughout the year. In addition, your updated windows will look stylish and increase the value of your home.