5 Reasons to Adore Patio Doors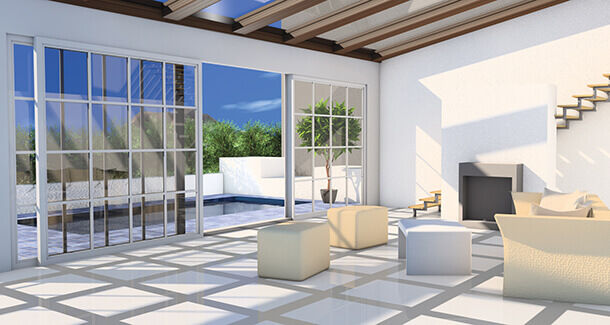 Call us crazy but we love patio doors. Off a living room, kitchen, or master bedroom. Either sliding or hinged. Equipped with internal blinds, decorative grills or simply crystal clear. No matter what kind or where, these fixtures can transform a home from ho-hum to heavenly. Here are several ways our Barrie, Aurora, and Newmarket patio door services can improve your abode.
1. Adds beauty by increasing natural light
Sunlight streaming through a patio door can adorn a room more elegantly than the finest of furniture. A bit of natural light adds richness and warmth to even the most uninspired of rooms. But there's far more to it than just a matter of what's pleasing to the eye. Sunshine is scientifically proven to lift our mood and improve our health. However, on cold winter days when thermometers dip down way past zero, venturing outside is less than desirable. Instead, push back the curtains or open the blinds of your patio doors and voila, an instant dose of vitamin D that will soothe your spirit and energize you for the day.
2. Provides more visual space
If a room feels small and cramped, patio doors can do much to add a feeling of airiness and space. This can be particularly effective for a kitchen, but any room in your house can be visually expanded in this manner.
3. Brings a bit of the outdoors in
If you have an exceptional view or a lovely backyard garden, why not maximize it by installing patio doors? The beauty outside your home will merge with your internal space, providing an allure that you and others will admire.
4. Energy efficient
Patio doors being installed today in Barrie, Aurora and Newmarket, and surrounding areas are energy efficient and can reduce the costs of heating and cooling your home. You can even avoid turning on the air conditioner all together on all but the hottest days in the summer. Open patio doors allow plenty of airflow into your home thereby eliminating the need for the AC.
5. Add value to your home
When your patio doors act as an entrance to a beautifully landscaped backyard, the value of your house shoots up. This makes patio doors more than just a charming addition to your home: they're an asset that increases the entire worth of your property.
Installation done right
At Northern Comfort Windows & Doors, we have an unwavering commitment to superior workmanship. That's why when you hire us to install your patio doors you can be sure that the job will be quickly and flawlessly executed. We even guarantee it. Since 1998, we've been providing Barrie and surrounding areas with quality windows and doors. Our exceptional customer service and dedication to excellence make us a company that you can count on. Contact us today for a free in-home estimate.