Windows vs. Birds: Consider a Window Replacement with Northern Comfort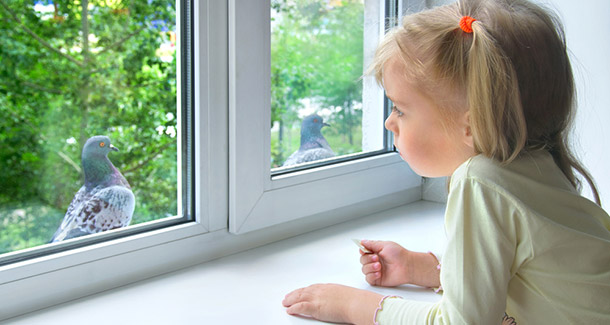 Birds and windows have become a modern day calamity. Glass windows, by reflecting foliage or sky, look like inviting places to fly into and according to a 2014 study, about one billion birds die from window strikes in the U.S. each year. Environment Canada (EC) ranked window collisions as the second highest direct human cause of bird deaths, estimating that 16 million to 42 million birds die from window collision annually. Often a collision will temporarily stun a bird and it will fly off, seemingly recovered, a few moments later. However, these birds often die later, from internal bleeding or bruising, especially on the brain.
There are laws and penalties that protect birds in Canada, with jurisdiction over birds divided between federal and provincial governments. Accordingly:
It is an offense under Ontario law to emit reflected light that kills or injures birds.
It is an offense under the Canadian species at risk act to kill or injure birds even though you are simply doing it by reflective windows on your buildings.
At Northern Comfort Windows and Doors in Barrie, we've been supplying and installing beautiful windows and doors since 1998 with timely service and top-of-the-line products. Our commitment to excellence is unparalleled as we go out of our way to meet the needs and desires of each client. We recognize the effectiveness of your windows energy-saving capabilities, as well as windows ability to let us live collaboratively with that environment – here's how to get the most out of both.
There are two reasons why birds collide with windows: first, because they see reflections of the landscape or see through the glass to potted plants or vegetation on the other side; the second type happens by night, when nocturnal migrants hit lighted windows, lights divert nocturnal migrants from their original path, especially in low-ceiling or foggy conditions; a third and non-fatal type of window collision is when a bird attacks its reflection in a window, most often in spring and early summer when birds are defending their breeding territories.
A July 27, 2016 Global News story on University of Alberta researcher Justine Kummer notes she wanted to "find ways that homeowners can keep having birds in their yards, keep feeding them, keep attracting them but hopefully reduce the collision risk at their homes." Kummer's study made the following recommendations:
Move bird feeders closer to windows - within 3 feet (too close for a collision to be fatal) of windows or more than 30 feet away (birds will be more likely to recognize that windows are a part of the house).
Use bird window decals - UV decals are relatively clear to humans, but for birds it reflects light and they can better see that there is a surface there.
Close blinds to cut down the reflection of vegetation in the window.
If you have questions about making your home and windows safer for birds, require new or replacement high energy efficient doors or windows, contact Northern Comfort Windows and Doors' service department directly in Barrie at 705-733-9600 and in Newmarket at 905-853-9400 or toll free at 1-888-220-2221 today.