Northern Comfort Windows and Doors Servicing Ontario Discusses Front Door Replacements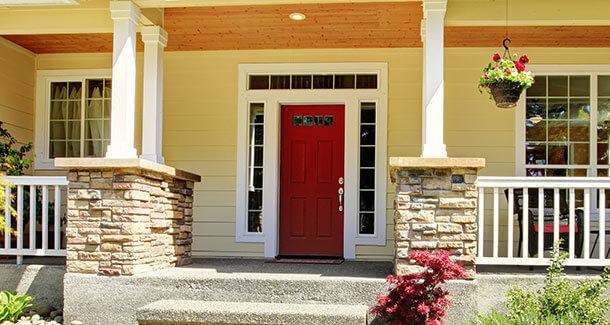 Is it time to replace your front door? If you've been asking yourself this question you're not alone. Since 1998, Northern Comfort Windows and Doors have become experts at installing doors in Barrie, Newmarket and throughout York Region and Simcoe County based on this very question.
First impressions are everything, and the first thing people see when they visit your home is your front door. It's a big contributor to curb appeal the focal point of your home's façade, it trumps the other contributors in terms of importance.
Mike Holmes, from Holmes Makes It Right on HGTV, suggest that when it comes to performance, there are some basic things your front door must do including:
Keeping intruders out is the obvious one, so it has to be strong and durable with a solid frame that can't be kicked in;
It should also open and close properly without jamming or sticking, or not locking securely; and,
It's also really important that your front door stops water from coming in, and air from leaking out.
According to TV personality Bob Vila, it's time to consider a new entryway if:
Your front door weathered, scratched, or dented;
There cracks or breaks along the door's edges or within its panels;
The door let in drafts;
You encounter difficulty getting the door to hang level on its hinges; and
It is often a hassle to close and lock the door.
If you answered yes to any of the above questions, then it may be wise to consider front door replacement. Think about the advantages to be gained from putting in a new one - improved appearance, energy efficiency, security, ease of operation, and weather proofing. According to the Remodeling magazine's 2014 Cost vs. Value Report, front door replacement ranks as the single most cost-effective home upgrade, returning more than 95 percent of the investment.
Once you've chosen a material, wood, fiberglass, or steel, there are plenty of ways you can customize your chosen front door like glazing options, such as glass inserts, sidelights, and transoms. And there also countless styles and finishes of hardware available like door knobs, handles, and lock sets.
When it comes to doors, Northern Comfort Windows and Doors offer fiberglass and steel entry doors, garden doors, patio doors, and storm doors, as well as any hardware that is needed. If you require new or replacement high energy efficient doors or windows, contact our service department directly in Barrie at 705-733-9600 and in Newmarket at 905-853-9400 or toll free at 1-888-220-2221 today. We also service Collingwood, Orillia, Muskoka, Bracebridge, and more in Ontario!